Unwilling to rest on the laurels of his various skydiving records, Felix Baumgartner has once again taken to the sky, albeit this time much closer to Earth. His newest flavor of insanity is chasing a drift car around a Polish air base in an acrobatic helicopter, which looks like a mashup between Mission: Impossible and Gymkhana.

Shortly after his freefall from the edge of space, Baumgartner spoke of his dream to become a helicopter pilot. In less than three years, he has fully realized that dream. The accuracy in his flying is beyond impressive, especially considering the unseen obstacles from behind the camera (this was obviously a big production with many moving parts).
Baumgartner combined forces with drift superstar Jakub Przygoński to create the appropriately named Red Bull Heli Drifting performance. Filmed at Debrzno Airfield in Poland, the pair of adrenaline junkies pilot their powerful machines in a carefully-coordinated waltz around the former military base.
Awesome shot is awesome.
At one point in the video, a MiG-21 crosses the airfield while under tow. Naturally, Felix and Jakub decide to do the right thing and fly/drive in circles around the Soviet-era fighter. One shot in particular, taken from inside the MiG-21's enormous engine, is particularly satisfying.
G/O Media may get a commission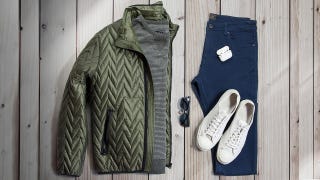 60% off
Jachs NY Fall Sale 60% Off
Baumgartner pilots a Bolkov BO105 in the clip, which is a twin-engine light helicopter that's known for being highly maneuverable. It's capable of pulling 3.5 positive G's and has a reputation for extreme takeoff performance due to its low weight and ample power. While it's no longer in production, militaries, coast guards and police forces from all over the world have used the aircraft to great effect.
Red Bull's famous Hangar 7 in Europe, which houses one of the most impressive collections of aircraft anywhere, has a BO105 in its stable. American Chuck Aaron, who is Red Bull's Chief Pilot, is also well known for flying the BO105 around the airshow circuit.
In case there was any doubt that Baumgartner is actually the pilot in command of the 105 throughout the video, we reviewed it several times (for science!) and it strongly appears that Baumgartner is the real deal. Every angle shot from inside the 105's cockpit shows only one person at the controls, who bears a strong resemblance to Baumgartner and not someone impersonating him (like Chuck Aaron, for example).
There's also a miniature version of the helicopter/Toyota tango happening, and at the video's conclusion we see Red Bull's AH-1 Cobra helicopter make an appearance, piloted by Siegfried "Blacky" Schwarz. While some of the script might have been cheesy ("Watch out! One hit and we are history!"), everything about the precision flying and driving is completely awesome.
Photo credit: Screenshot via embedded YouTube/Red Bull

Follow the author on Twitter: @collinkrum