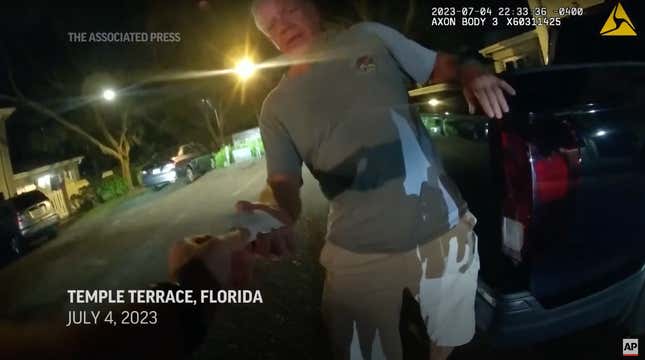 One of America's most prolific narcotics prosecutors was allegedly so drunk he urinated himself and could hardly stand when he was pulled over for suspected DUI in a hit-and-run crash on July 4.
Joseph Ruddy was waiting for police with his business card in hand, apparently unable to stand up without the aid of his truck's tailgate. Police tracked him down after he allegedly side-swipped an SUV at a red light and clipped another vehicle, from the Associated Press:
"He never even hit brakes," a witness told police. "He just kept going and he was swerving all the way up the road. I'm like, 'No, he's going to hurt somebody.' So I just followed him until I got the tag number and just called and reported it."

When officers arrived at Ruddy's home in the suburb of Temple Terrace, they found him hunched over his pickup, holding his keys and using the vehicle for support, the report said. Officers noted that he had urinated on himself, was unable to walk without help and failed a field sobriety test.

"I understand we might be having a better night," Tampa police patrolman Taylor Grant said before looking at the business card.

"Why didn't you stop?" the officer asked.

"I didn't realize it was that serious," Ruddy said in a slurred response.

"You hit a vehicle and you ran," the officer said. "You ran because you're drunk. You probably didn't realize you hit the vehicle."

Police administered a breathalyzer test and found Ruddy had a 0.17 percent blood alcohol content—twice the legal limit. Police charged him with driving under the influence with property damage. Ruddy stayed on as a prosecutor for two months following his arrest, and was only removed this week when the AP inquired with the Justice Department why the prosecutor was allowed to practice while charged with serious crimes. Ruddy was pulled off of three criminal cases following the newswire's inquiry on Wednesday, though he'd been removed from his supervisory role shortly after his arrest.
Ruddy is known as an aggressive prosecutor who goes after low-level drug traffickers in the Tampa court system with decade-long jail sentences when such offenders see a few months in other parts of the country. From the AP:
Ruddy is known in law enforcement circles as one of the architects of Operation Panama Express, or PANEX — a task force launched in 2000 to target cocaine smuggling at sea, combining resources from the U.S. Coast Guard, FBI, Drug Enforcement Administration, and Immigration and Customs Enforcement.

Historically, PANEX-generated intelligence contributes to more than 90% of U.S. Coast Guard drug interdictions at sea. Between 2018 and 2022, the Coast Guard removed or destroyed 888 metric tons of cocaine worth an estimated $26 billion and detained 2,776 suspected smugglers, a senior Coast Guard official said in congressional testimony in March. The bulk of those cases were handled by Ruddy and his colleagues in Tampa, where PANEX is headquartered.

Ruddy is expected in court to face his own charges on September 27.