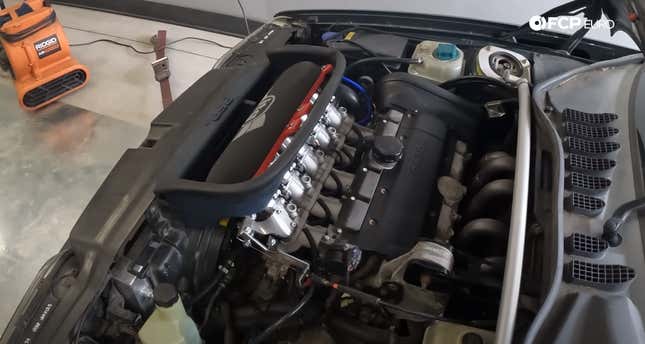 Volvos don't always get a lot of respect in enthusiast circles. They're safe, sane, comfortable and sensible, and those things don't generally jive with drivin' fast and kickin' ass. That isn't to say, though, that Volvos can't offer surprising speed and super capable handling if they're tweaked just a little, and the proof of this lies in the company's racing efforts throughout the years.
No racing Volvo is as famous or beloved as the British Touring Car Championship wagon campaigned by the legendary Tom Walkinshaw Racing. Despite not being wildly successful in-period, it was burned into our collective consciousness the first time it hit a curb and went on two wheels. Now, the fine folks at FCP Euro have done a tribute to those cars, and while the whole video series has been great, this video, in particular, absolutely takes the cake. Why? Because they figured out how to slap one half of the individual throttle bodies from a BMW S85 V10 (of E60 M5 fame) on the naturally aspirated inline-5 cylinder Volvo.
I'll let that sink in for a second.
So, now that we're living in a world where this kind of mad science has been done, how did they do it, and was it worth it? To answer the first question, they hired an engineer (who happens to be building a Z3 M Coupe that's actually an E92 M3) to do a whole lot of 3D scanning of the Volvo, its engine, and its engine bay. From there, he used CAD and rapid prototyping via 3D printing to iterate on the design and confirm fitment, and when that was done, he had the trumpets and other assorted bits 3D printed in metal. Oh, and he made a custom airbox, too.
To answer the second question, I have to say that the sound would make it worth the mods alone, but the car actually responded really well to this modification, gaining around 25 peak horsepower but a whole bunch more torque, and the area under the curve was significantly improved. In the end, the car made around 175 hp at the wheels, which is pretty good for a mildly built Volvo engine. The limiting factor for power now seems to be the camshafts, but who knows if or when those will get swapped out.
This whole build series is worth a watch, but the really wild stuff happens in season two, which, in addition to the ITBs, sees the car get a custom set of long-tube high-rise headers, which also add considerably to the gorgeous racket that this very angry wagon produces. You owe it to yourself to slack off at work and check the series out.