Faraday Future, once the most secretive car company in the auto world, finally got to show the car it hopes to put into production, the FF 91, already opening up to reservations online. Faraday Future was happy to say it got 64,124 reservations. These are $5,000 spot-holders for a six-figure car, so the company has made hundreds of millions, right? Not quite.
While the official reservations for the FF 91 should be $5,000, the site allows you not only to make a low-priority reservation for free, it also allows you to make multiple reservations.
Here's my first.
G/O Media may get a commission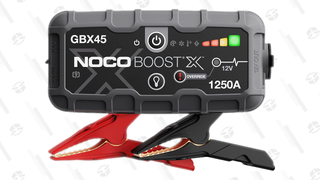 13% Off
Noco Boost X GBX75 Jump Starter
And here's my second.
As you might imagine, I am not yet $10,000 poorer nor is Faraday Future $10,000 richer.

Certainly I should not say that Faraday Future hasn't made a dime off of its reservations, but in no way are these all paid reservations. I would expect a fraction of these would be paid, and I have reached out to Faraday Future for comment on if they have an exact figure.
Now, this was not exactly the case with the last big reservation spree with the Tesla Model 3. When that came out, Tesla offered $1,000 refundable reservations and the company got a cool 115,000 of them, making Tesla a good $115 million. This isn't exactly the case with what's going on at Faraday Future, though we don't know yet if we'll see a similar jump in stock price like Tesla's.
I applaud Faraday Future for finally showing off the car that will hopefully be on the road in a couple years, but it's important not to blow the interest of the rest of the world out of proportion.
UPDATE: Faraday Future noted that 'standard reservations' are free, but did not give a figure on how many reservations actually cost anyone any money:
Standard reservations confirm the intent to reserve a non-priority spot in line when the FF 91 becomes available for purchase. Priority reservations require an initial fully refundable deposit of $5,000 to secure a priority spot in the reservation line, as well as provides eligibility for upgrading the reservation to the exclusive FF 91 Alliance Edition this Spring.


While we are thrilled to receive such overwhelming interest in FF 91, we are unable to provide specific details with regards to reservation type.