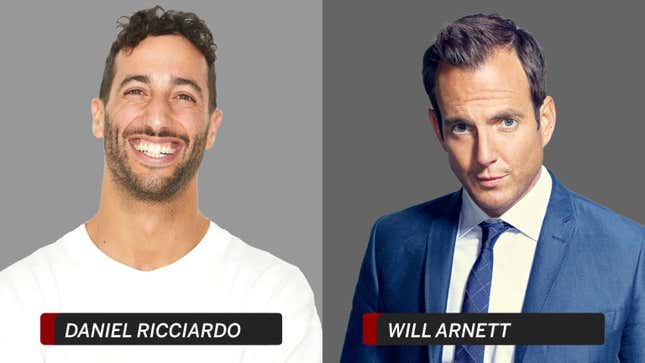 Let's be honest, Formula 1's television coverage has not been the same since Liberty Media started F1 TV and ousted NBC from the coverage throne. Ever since, there's a certain void left by the former NBC crew (Leigh Diffey, David Hobbes and Steve Matchett) that F1 TV and Sky Sports F1 have struggled to fill, aside from Will Buxton's role, because he's on F1 TV and we still get our grid walks. Regardless, coverage just hasn't been the same. But what could be the most ridiculous F1 coverage you may ever watch is now just days away.
This NYC Garage Takes Vanlife To The Next Level | Jalopnik Visits
ESPN shared Thursday that a new, alternate F1 coverage show is coming to its own ESPN2 network starting with the upcoming Canadian Grand Prix and will be hosted by what could be the most unexpected of duos: Red Bull reserve driver Daniel Ricciardo and actor Will Arnett, best known of course for Arrested Development.
"The Grandstand with Daniel Ricciardo and Will Arnett" will have a limited run of broadcasts for the 2023 season, set for the Canadian GP, the U.S. GP in October, and the Las Vegas GP November 18. ESPN reports the telecast is a collaboration with Peyton Manning's Omaha Productions, which if any of you are football fans, you might be familiar with his "ManningCasts" on Monday Night Football.
The whole thing does feel like another step added to the circus that is Liberty Media's plan on trying to take advantage of the rising interest of Americans so they can convince them it's worth paying thousands of dollars for grandstand tickets at the upcoming U.S. races. However, providing familiar faces who could make the racing, really fun, might actually be a really good move. And the pair are clearly excited about it. From ESPN:
"This is going to be a hoot!" Ricciardo said. "As you'd expect Will and I are going to have some fun with the show, but we're hoping it just feels like you're watching F1 with your mates.

"We will have some amazing guests, plenty of laughs and with some luck, bring fans another step closer to the sport I love so much. Buckle up America!"

Arnett added: "The more I learn about Formula One, the more I'm intrigued by it. The opportunity to work with Mika [Hakkinen, two-time F1 champion] on my podcast was fantastic, and I'm really looking forward to doing this show with Daniel. We're going to have fun, and so will the viewers."
If you're not sure about this unlikely pairing, you'll want to give a listen to Ricciardo's appearance on the "Smartless" podcast back in September 2021. The show, hosted by Arnett, Jason Bateman and Sean Hayes, is an all-smiles episode, as expected when Ricciardo is involved. The interview starts with Ricciardo laughing and not seconds later, Hayes compliments Ricciardo on his smile. Of course, because they're all comedians it gets out of hand, quickly.