Lockheed's F-35B Short Takeoff and Vertical Landing version of the Joint Strike Fighter took its first leap off the ski-jump test ramp at Patuxent River Naval Air Station in Maryland, and it could lead to the birth of a new eXXXtreme sport.
The ski ramp is similar to the ones installed on the Royal Navy's Queen Elizabeth Class and Italian Navy's Cavour Class aircraft carriers. As such this test was a big leap (b-dum) for both country's F-35B ambitions.
The use of a ski-jump for carrier operations is used around the world for both standard fixed wing and STOVL (Harrier) carrier aircraft. This configuration allows for less thrust and/or higher operating weights, depending on a myriad of variables, than a traditional flat deck.
G/O Media may get a commission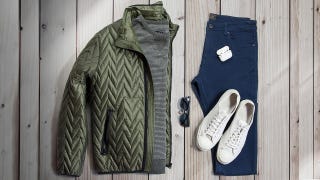 60% off
Jachs NY Fall Sale 60% Off
For STOVL aircraft like the F-35B, forward thrust is maximized during the deck roll, then the nozzle in pointed at a higher deflection angle to maximize climb-out ascent rate. Ski-jumps are known to squeeze the very most out of STOVL aircraft, and are an advantage in comparison to U.S. "Gator Navy" amphibious flattops that lack such a feature.
Although these initial ski-jump trials appear to have been successful, it would not be a normal F-35 milestone without some controversy.
This test was delayed last winter by about five months without a stated reason. Then, with little notice, this video was released by NAVAIR, Lockheed and BAe Systems showing the test in progress. Maybe that's a function of just how unforgiving this type of test can be. If something goes wrong with the jet at such a low energy state and slowly climbing out at low-altitude and high angle of attack, mitigating any major issues probably has more to do with pulling the ejection handle than troubleshooting in the cockpit.

Still, these successful initial tests are especially exciting for the UK, which is betting very large on the F-35B program. Peter Wilson, BAE Systems test pilot and ski jump project lead, stated:
Friday's F35B ski jump was a great success for the joint ski jump team. I'm exceptionally proud of this team. Their years of planning, collaboration and training have culminated in a fantastic achievement that advances the future capabilities of the aircraft and its integration into UK operations.
These tests will pave the way for the F-35B's eventual entry into service onto foreign aircraft carriers, starting with the HMS Queen Elizabeth, around the turn of the decade.
Contact the author at Tyler@jalopnik.com.