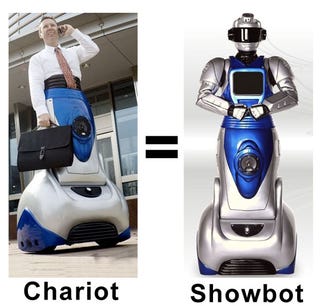 Exmovere hopes to outdo the Honda Walking Assist by offering a Segway-like mobility system to disabled individuals called the Chariot. One problem. It's actually a Showbot entertainment robot costume.
What is a Showbot? A company out of Las Vegas has used Segway technology to create robotic-looking character costumes for events, trade shows, amusement parks, et cetera. Exmovere, a purported medical research company, seems intent to try and get funding to build an actual version of this. Unfortunately, rather than coming up their own version of the Chariot they merely snagged the bottom version of the "iCan" character from the Showbots and took the top of the costume off. They didn't change a thing, which may explain why it has a speaker and video camera in the crotch. Of course, this could all just be one big, late April Fool's Day joke.
Embarrassing, Will Robinson!

Exmovere Holdings Unveils Wearable Transportation Device

MCLEAN, Va.—(BUSINESS WIRE)—This week Exmovere Holdings is presenting a series of demonstrations of a self-balancing, hands free concept vehicle called the Chariot. The Chariot is a wearable, sensor-activated pod designed for use by amputees and others who have difficulty standing. The demonstrations are being held at Exmovere's McLean, Virginia headquarters from April 7th until April 10th.

Unlike other self-balancing vehicles, the Exmovere Chariot is controlled by subtle movements of the lower torso and hips. Sensors inside the cocoon-like shell of the vehicle predict the intended motion of the wearer. The Chariot requires no manual dexterity, minimal physical effort and allows wearers to closely approach and reach objects. The upright form of the Chariot allows its wearer to make direct eye contact with others. The Chariot is battery powered and can travel up to 12 miles per hour.

According to David Bychkov, CEO of Exmovere, "The Chariot represents an exciting path for our company. Whereas our team was originally focused on designing sensor products that monitored signs of life, the Chariot's sensors are designed to make life more livable. We especially hope that the Chariot will offer dignity, strength and increased mobility to those who were wounded serving our country."

Production versions of the Chariot will integrate Exmovere's proprietary vital sign sensors, environmental and ground clearance sensors, wireless and cellular connectivity, a smaller form factor and unique options for military and law enforcement customers. Exmovere will also develop a feature of the Chariot that can switch the wearer from upright to seated position. Exmovere seeks to partner with an automotive manufacturer to eventually launch a performance-oriented Chariot.

Exmovere Holdings is a biomedical engineering company that specializes in emotion sensing applications for healthcare, homeland security and mobility.
[Businesswire via Gizmodo]