Nearly six years after being fired from Tesla Motors, the company's former Director of Communications David Vespremi earlier this week won a lawsuit against his former employer. Tesla has been ordered to pay Vespremi $207,000 in damages, according to court documents.
In his original lawsuit, filed in 2008 in San Mateo, California court, Vespremi alleged that he was an extremely effective and well-evaluated spokesman for Tesla after he was hired by the company in early 2007. However, he was fired in December of that year, and he said Tesla officials went on to make disparaging remarks about him in the media, along with a number of other employees who were terminated around the same time, calling them "bottom-performers."
Vespremi's lawsuit alleged that these statements were false and not the reason he was fired, and they kept him from gaining employment in the auto industry for some time. He sued Tesla on the grounds that they allegedly violated their employee agreement with him and owed him compensation and stock options.
But after years of working its way through the legal system, the court this week ruled in Vespremi's favor and awarded him $207,000 in damages — the equivalent of 10,000 shares of Tesla stock at the time of his employment.
Vespremi said the decision is a "mixed bag," and said he was happy with the outcome but wishes Tesla well.
G/O Media may get a commission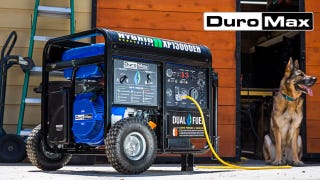 Black Friday Sale
DuroMax Generator Sale
"I want to see them succeed," he said. "I don't have any ill will toward Tesla, but I would like to have not spent the last five-and-a-half years in litigation."
A Tesla spokeswoman declined to comment on the case or say whether the company would appeal.
Photo credit Getty Images