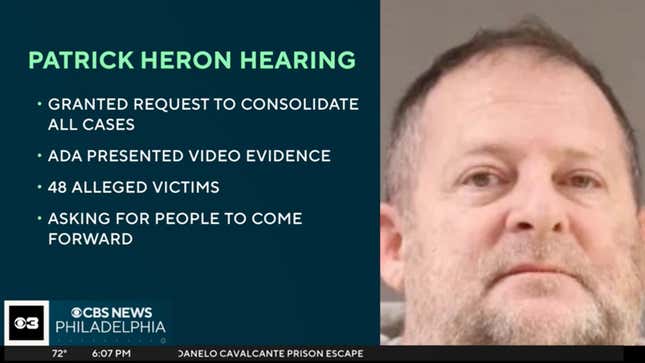 Former Philadelphia police officer Patrick Heron was arrested last year over what CBS News Philadelphia described as "a long list of charges related to unlawful sexual contact with a person less than 13 years of age, photography depicting sex acts with young girls and retaliation and harassment against victims and witnesses." This week, the same outlet reported he was back in court, with prosecutors alleging that Heron had recorded some 30 sexual assaults in the back of his police cruiser.
2024 Nissan Z NISMO | Jalopnik Reviews
The case itself is beyond disturbing and started last September when the retired Philadelphia police officer was arrested after prosecutors said an investigation turned up "disturbing images and threatening messages against the alleged victims." Due to the nature of the alleged crimes, the district attorney didn't release many details at the time but asked anyone with more information to come forward as they believed there were more victims than they already knew about.
"This is every parents' nightmare. This is every teachers' nightmare," DA Larry Krasner said in a statement. "You got a guy born in 1969 who is going after little kids, young teens. This is awful conduct at every level and even more awful when you're in a position of public trust or were or you're still pretending you are."
Fast forward to June of this year, and prosecutors announced 233 charges against Heron for sex crimes against 19 victims who came forward after he was initially arrested. Again the ADA couldn't discuss many details due to the nature of the alleged crimes, but she did tell reporters that they had evidence of assaults from 2005 all the way through 2017.
"We have a lot of video evidence in this case that we were able to recover now as a part of this investigation. Several of those videos are currently charged as Jane Doe because we don't know every person who he victimized, but we know that they're out there," Assistant District Attorney Lyandra Retacco told reporters.
At the time Heron was arraigned, his bail was reportedly set at $111 million.
As of this week, prosecutors say they have identified a total of 48 victims, 44 of which are still unidentified. Thirty assaults were reportedly recorded in the back of his police car over a span of 13 months and that some of the victims were children he met through his own child. Prosecutors requested that all of the cases filed against Heron be consolidated going forward, which the judge reportedly granted.
With so many victims still unidentified, investigators are asking anyone with more information to come forward.