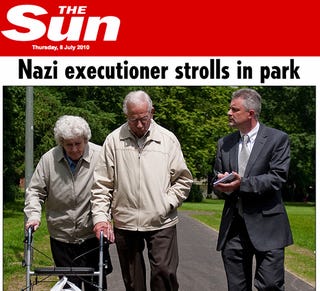 Klaas Faber is an 88-year-old ex-Audi employee who loves driving his VW Golf to the market. According to The Sun, he's also a convicted Nazi war criminal living in Germany free from extradition or prosecution because of Germany's shield laws.
According to Britain's The Sun newspaper, Klaas Faber was a Dutch-born volunteer Nazi who led Gestapo death squads and was an executioner at the same concentration camp where Anne Frank was imprisoned. He was eventually convicted for 22 murders and sentenced to death, though his sentence was commuted to life in prison. He escaped in 1952 and fled to Germany, where he was previously made a citizen under Adolf Hitler's "Fuhrer's Law."
Faber's citizenship means he's immune from extradition, and German prosecutors classified his crime as "manslaughter" meaning he's now beyond the statute of limitations. Germany's privacy laws also mean no one can be told he's a war criminal or see pictures of him out-and-about.
"Faber's crimes are so extreme he should die in prison," Arnold Karstens of the charity War Crimes Investigations told The Sun. "What makes it worse is he has never shown remorse. It is sickening to see him enjoying freedom."
Germany: Making war crimes legal since 1938.