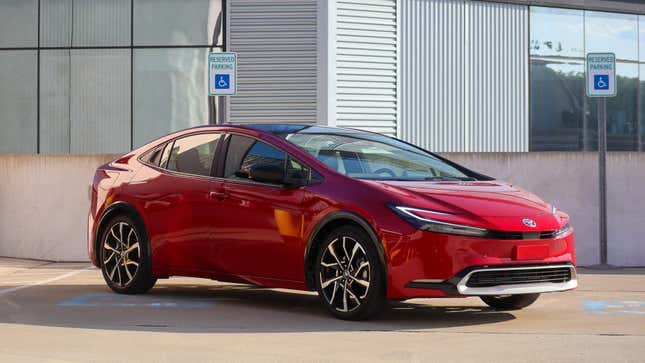 I'm not here to moralize or make guesses about your driving needs. Yet, I find myself constantly frustrated with the conversations we have about range and range anxiety. It's not that they aren't real, concerns – spending lots of money for a car that has less utility is not the move. But, the ever-insatiable desire for a big range number obfuscates the tradeoffs and drawbacks that come with making a battery big enough to meet the supposed range "needs" of consumers. Real world experience proves that limited-range electrification can be more than enough to get drivers off the teet of big oil – provided that they choose the right car. I recently spent a week with the Toyota Prius Prime and more than half of my 570-ish miles were done gas-free. Five of the seven days with the Prius Prime were done purely on electric power.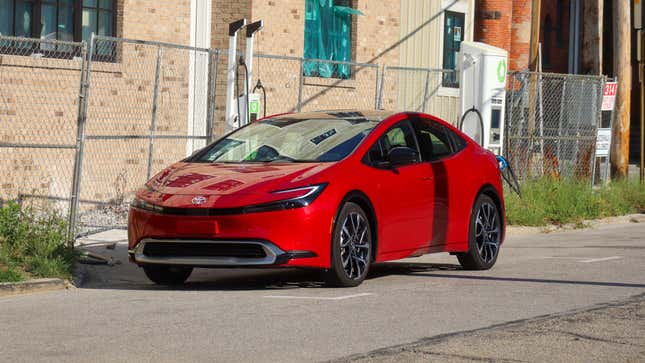 In the real world, people do more with their cars than just complete a direct A-to-B commute, and nobody wants to be left stranded if an errand requires some extra driving. People want batteries that will leave them range to spare. In the age of the 300-mile EV, the Prius Prime's 39-mile EV range (44 miles in lower-trimmed models with smaller wheels) may sound embarrassingly small. But think about it, how often are you driving more than 39 miles at once? How much time do you usually spend in the car? I'll bet dollars to donuts that the average driver could use a Prius without much need for gas. Especially if they stick to the ABCs of driving a PHEV: "Always Be Chargin'."


Always Be Chargin' is simple; wherever there's an open plug, then, well, plug the car in. That could be an hour while at the gym, or two hours at a coffee shop. Or it could be 15 minutes or so while at the grocery store. The car doesn't need to totally replenish its battery, but the energy replenished on even the smallest of stops is driving time that doesn't require burning gas. All but one of the several coffee shops I frequent as a work-away-from-home space have level 2 charging. Level 2 charging spaces are also available at many grocery stores, shopping malls, gyms, etc. Sticking to the ABC plan during my week, what some call opportunistic charging, meant I didn't use a single drop of gas for five of the seven days I had the Prius Prime, despite driving more than 250 miles.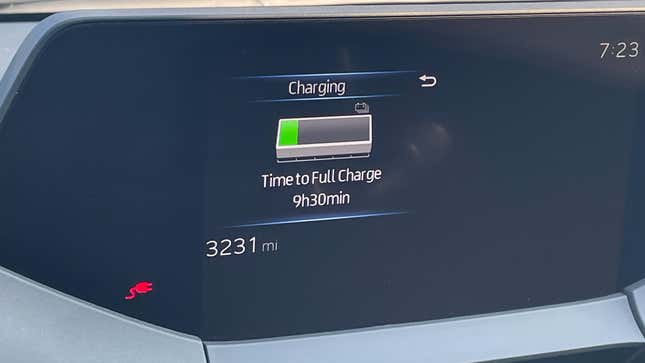 At the moment, PHEVs seem to be the red-headed stepchild in the electrification movement. Decried by EV people for not going far enough, some experts see them as a waste of resources, vehicles that do nothing well and tie up precious battery minerals that could be used on a full EV. For the anti-EV crowd, the increased price but limited full electric range seems like a waste of money. The consensus between the two groups is about the same – why pay all that money for a car that can't even go all that far on electric power? Both arguments distract from the crux of the matter: you probably don't drive all that much. Or, let's look at it as a glass half full situation – limited range can take you way further than you'd think. I think the average driver's perception of both time and distance is skewed.

It can be hard to get a handle on how much time the average person spends behind the wheel. When I was still a full-time rideshare driver, I averaged about 900 miles of driving per week. Quick math shows that's about 128 miles per day that I spent behind the wheel, roughly in 4 to 8-hour shifts. I wouldn't wish that life on my worst enemy, but the fact of the matter is that spending 4 to 8 hours behind the wheel to travel around 200 miles makes you an extreme outlier among drivers. Spending more than, say, an hour and a half behind the wheel per day in one long stint is something that most drivers only do on weekends or for infrequent trips.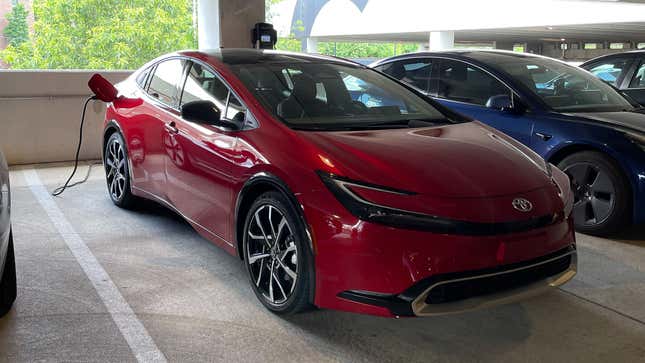 The Prius Prime's 39-mile range, in my experience, equates to about 45 minutes to an hour and 15 minutes worth of driving, nonstop, in varying traffic. I live in Ohio, where traffic is never all that bad. Of course driving 39 miles in bumper-to-bumper traffic in a place like LA, could take damn near all day, but the Prius's 39 mile range is likely enough to meet the driving needs of most folks on most days. If you don't believe me, just ask the U.S. Department of Transportation.

It's great that I was able to do so much driving solely on electricity, but that's only half of the story here. The Prius Prime is able to get so much out of opportunistic charging because of its relatively small traction battery. New PHEV and EV models have mostly come to market in the form of big SUVs and luxury vehicles. These heavy vehicles will need more energy to cover the same distance as a smaller, lighter car – the 2024 Mercedes Benz GLE 450e is estimated to go about 40 miles on electric power, but it needs a 23.3 kWh battery to do so. That's not quite 10 kWh larger than the 13.6 kWh pack in the Prius Prime.

This might sound like a "no, duh" type statement, but a larger pack takes longer to charge - ruining one of the best parts of a good PHEV, the ability to recharge in a reasonable amount of time with no specialized equipment.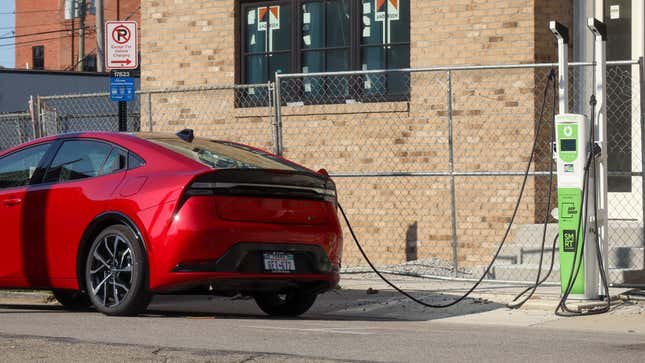 Toyota says 11 hours to recharge the battery from flat to full, but in my experience, the Prius took about 9 and a half hours to recharge from flat to full on a standard NEMA 5-15 120V plug, set at the maximum of 12 amps. That's roughly 1.3 kilowatts added to the battery, per hour. That means the Prius Prime can recharge its battery from empty to full, overnight, from a standard 120V outlet. In the era of PHEVs that can DC fast charge, that nine-hour number sounds long and unimpressive, but let's reframe the conversation here.
Nine hours is less time than most people spend at home between commutes. The larger battery EV and PHEV competitors would need more time to charge, or they'll need expensive level 2 or DC fast charging services to match the Prius's utility. The Prius's 39-mile range could potentially be available for use, every single day, without any special equipment. Theoretically, the Prius Prime could do a staggering 273 miles of full-electric on standard home charging alone if the driver hits 39 miles every day. That's above the 259 miles that Americans currently average per week. Over five years, a Prius Prime owner could potentially drive more than 70,000 miles, on full electric power alone just charging at night from a standard charger. And, unlike a limited-range EV, the Prius can be driven like a normal gas-saving hybrid during instances where the owner runs out of battery.
For my week with the Prius, I drove 573 miles, including shopping, gym trips, and the long trip to a curvy road for some auto journalist testing shenanigans. I used 5.9 gallons of gas, averaging 100.5 MPG. That is impressive.
If I had eschewed the one-off weekend trip, I probably wouldn't have used any gasoline at all that week. True, not every car can be the Prius Prime. I suspect I would've had a harder time driving mostly on electric power with the RAV4 Prime, given the fact that its bigger battery and lower efficiency means that opportunistic charging and 110V home charging won't do as much.
The more experience I get with EV, PHEV, and hybrid cars, the more I realize that it really isn't all that hard to just stop using gasoline, as long as you just plug in the damn car whenever you can. Keeping the Prius Prime charged was as easy as loading my dishwasher before bed, or plugging my iPhone into its charger. For my week with the car, using gas was optional. Given the state of our charging infrastructure, it's nice to have options.