The Morning Shift
All your daily car news in one convenient place. Isn't your time more important?
This is The Morning Shift, our one-stop daily roundup of all the auto news that's actually important — all in one place at some point we randomly decide since it's the Detroit Auto Show. Or, you could spend all day waiting for other sites to parse it out to you one story at a time. Isn't your time more important?
The media days for the Detroit Auto Show have wrapped up and most members of your Jalopnik staff are now headed home to their respective houses, apartments or vans down by the river. We still have some news and analysis from the big show coming up, but in the meantime, here's all the big reveals from Tuesday.
Never fear, the 2015 Subaru WRX STI has an absurdly big wing on the back of it. It's nice, it's wonderful. But there's only one version that goes all the way with the WR Blue paint and beautiful gold wheels. And there are only going to be 1,000 of them so hurry your ass up?
Quick! What two things do you want your luxury sports car to be like? A Cheetah and a jacuzzi? An arsonist and a waterslide? Wrong and wrong. According to Acura, it's a gymnast and a bank vault. And that's the essence of the new TLX prototype.
Here's a bunch of photographers surrounding the 2015 Cadillac ATS Coupe at the Detroit auto show. While they were taking pictures, I asked one of Caddy's top execs if an ATS-V was in the works. The short answer: Stay tuned.
All jokes about the Infiniti Q50 Eau Rouge's press release beating-around-the-bush aside, the concept is a legitimately beautiful expression of the Red Bull race car in sedan form. It also has the best paint in Detroit.
Is the Lexus RC-F more powerful than the new BMW M4 coupe? Yes. Well, maybe. Probably. Is it lighter than the M4 coupe? Lexus didn't say. Is it at least as quick as a classic 427 Shelby Cobra? Lexus didn't say, but they did imply.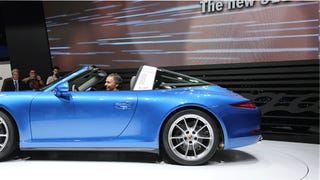 We've established that the new Porsche 911 Targa's automatically-retractable roof is bonkers; no one is disputing that. It's bonkers enough that it deserves this GIF so you can watch it, over and over again, until you're willing to do whatever it tells you. Here's the clever way it works.
Tesla's VP of Worldwide Sales and Service Jerome Guillen was kind enough to take questions after the least eventful press conference I've seen at the Detroit Auto Show, but he "does not know where rumors came from" about a utility or pickup from his company.
Volvo wagons have historically been popular among the environmentally conscious set, despite the fact they've never been that fuel efficient. Of course, that's what you get when you're powering such a heavy brick. But the 2015 Volvo V60 is different. Not only is it curvy and pretty, it's also very easy on gas.