Yesterday's opening NASCAR Nationwide Cup race at the Daytona International Speedway ended with one of the most terrible crashes in recent motorsports history when debris from one of the race cars flew into the stands and injured dozens of fans. Here's everything we know as of this morning. 
What happened exactly? The crash occurred as the cars were approaching the checkered flag of the DRIVE4COPD 300. Race leader Regan Smith attempted to block Brad Keselowski from passing in order to preserve his win. Smith's car spun out, creating a chain reaction wreck involving about a dozen drivers, including Dale Earnhardt Jr. and Kyle Larson. The car driven by Larson — a 20-year-old rookie running his first-ever Nationwide race — was launched toward the fence, ultimately raining debris onto the spectators. 
Tony Stewart won the race but was in no mood to celebrate, understandably. 
From Jenna Fryer at the Associated Press: 
The entire front end was sheared off Larson's car, and his burning engine wedged through a gaping hole in the fence. Chunks of debris from the car were thrown into the stands, including a tire that cleared the top of the fence and landed midway up the spectator section closest to the track. 

The 20-year-old Larson stood in shock several yards away from his car as fans in the stands waved frantically for help. Smoke from the burning engine briefly clouded the area, and emergency vehicles descended on the scene.
Fryer also reported that the car appeared to hit the cross-over gate, which has been tied to other severe crashes in the past. 
G/O Media may get a commission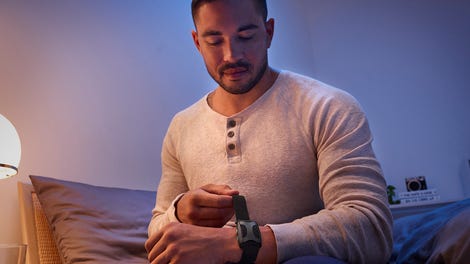 How many people were hurt? Late last night Fryer reported at least 33 people were injured. Race officials at a press conference said 28, but local hospital authorities put the numbers slightly higher, she reported. At least 19 were taken to area hospitals. Speedway President Joie Chitwood said 14 fans were treated at the track. 
Last night USA Today's Jeff Gluck reported that two fans were in critical condition, including one child and one person with life-threatening injuries due to head trauma. This morning Gluck tweeted that those patients are no longer critical, according to hospital officials. Some good news there. 
Was anyone killed? As of this writing, thankfully not. We, along with everyone else, have our fingers crossed that it will stay that way. 
Were any drivers injured? Larson walked away from the crash, which is kind of incredible considering the damage done to his car. (A forklift had to be used to extract his engine from the fence.) He was not hurt. Another driver, Michael Annett, was hospitalized overnight for observation after he complained of chest pains. (Update: Annett has since been released.) 
Will today's Daytona 500 still happen? Yes, the Sprint Cup race is scheduled to start today at 1 p.m. (Eastern time) and will be broadcast on FOX, although we can certainly expect Saturday's events to cast a pall over today's race.  
What about the fence and the track? Repairs are being made for today's race. The damaged section of the fence was set to be taken down and replaced, Chitwood said at yesterday's press conference. The cross-over gate won't be put back in place, just more fences. Race officials are expected to give an update on the fixes this morning before the Daytona 500.
Gluck tweeted that the fence appears to be fixed already:
Will any safety changes be implemented as a result of the crash? Possibly. Chitwood and NASCAR Senior Vice President of Racing Operations Steve O'Donnell said this is the kind of thing they study after every crash, so we'll see. 
We'll keep updating this unfortunate story as it develops. 
Photos credit AP, Getty Images