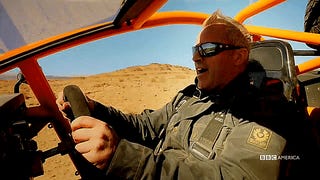 We've already seen Top Gear's first trailer. It was okay, mostly because it had Sabine Schmitz in it, and she's a badass. A new trailer came out today, and though it is devoid of Schmitz, that doesn't mean it's no good. What do you think?

One thing I couldn't help notice about the trailer is that it seems to make Chris Evans look like a really nice guy, which is contrary to what we've been hearing from the tabloids. In this clip, Evans is calling people "my brother" and high-fiving Matt LeBlanc, whom he allegedly detests.
Maybe it's nothing, but this trailer does seem like a bit of a PR move. Who knows.
The new Top Gear trailer shows off some cool cars, like some old World War II Willys MB Jeeps, a 250 GT Berlinetta, a Viper ACR, a Chevy Corvette, an Aston Martin Vulcan, a Mustang and even some practical SUVs like a Jaguar F-Pace and Mercedes GLC.
All of these cars are awesome (or at least decent), and I'm excited to see them on my screen. The presenters themselves, though? I'm not sure yet. This trailer doesn't really get my blood rushing. Maybe it's because I'm not used to the hosts, and maybe it's because, no matter what, I'm always going to compare to the Clarkson/Hammond/May Top Gear.
Either way, I'm totally willing to give the new crew a chance, because I'm a car enthusiast, and in a way, I think any show about beautiful cars is a godsend.
Put aside the iffy trailer though and look at the image at the end. Sabine, Chris and the rest of the crew are relegated to a tiny, shadowy little square at the top of the picture. What's up with that?
We want more Schmitz. And more Chris Harris. Hopefully we'll see lots of those two when the show airs.
Anyway, what did you think of this second trailer?