Good Morning! Welcome to The Morning Shift, your roundup of the auto news you crave, all in one place every weekday morning. Here are the important stories you need to know.
1st Gear: SALES
To touch on what we alluded to in yesterday's Morning Shift, September was a great sales month, just like all the months before it. Americans keep buying All The Cars. Pretty much everyone eked out sales gains, reports Automotive News:
U.S. light-vehicle sales, propelled by Labor Day promotions, fatter deals throughout the month, low gasoline prices and higher light-truck demand, rose 16 percent in September on double-digit gains at the Detroit 3, Toyota Motor Corp., Nissan Group and Honda Motor Co.

The seasonally adjusted annual sales rate surged to 18.17 million, easily topping the 17.7 million forecast, helping the industry record its strongest performance since July 2005, when Detroit's struggling automakers offered employee discounts to all customers in an effort to juice sales.
2nd Gear: Even Volkswagen
Yes, even Volkswagen. Though their sales figures haven't been extraordinary in recent months (even years) as they struggled to keep pace with competitors offering more crossovers and trucks, they still eked out a 0.6 percent increase last month. In part that's because the EPA's diesel cheating announcement, and the subsequent stop-sale order, didn't happen until after Sept. 18.
G/O Media may get a commission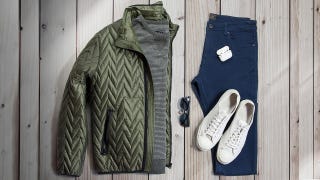 60% off
Jachs NY Fall Sale 60% Off
Audi did just fine. They were up 16 percent last month thanks to strong crossover sales (it's all anyone buys these days); the only car under stop-sale was the A3 TDI, and Americans were too busy buying crossovers to care.
3rd Gear: Winterkorn Out Just Kidding
Think VW CEO Martin Winterkorn is out for good? Think again. He still has "four key positions" within the company, reports Reuters:
The 68-year-old is chief executive of Porsche SE, the family-owned holding company that controls a majority stake in Volkswagen, as well as chairman of VW's flagship luxury brand Audi, trucks division Scania and the group's newly-created Truck & Bus holding.

[...] A source close to the company said Winterkorn had not yet quit his group positions because investigations were underway and a hasty withdrawal could be seen as an admission of guilt.
4th Gear: The EPA May Need To Borrow Your Car
According to the Financial Times, the EPA is going to personally test most every new diesel car on the road to see if they were cheating emissions like VW. And they'll be testing actual cars on the road, not loaners from the manufacturers.
The US watchdog is using cars from rental agencies or borrowing them from owners it identifies via vehicle registration databases. To entice owners to give up their cars temporarily, the EPA plans to offer them stand-in rental cars and free car washes or oil changes.

The agency is targeting most of the diesel vehicles on US roads, including BMW's X3, Chrysler's Grand Cherokee, GM's Chevrolet Colorado, the Range Rover TDV6 and the Mercedes-Benz E250 BlueTec. Diesel engines make up a tiny proportion of the overall car market in the US, but are much more prevalent in Europe.
Has the EPA asked to borrow your BMW? Email us if so.
5th Gear: GM Goes Big On Autonomous Cars, Car-Sharing
To touch on what we had in Morning Shift earlier this week, General Motors is trying new things as the auto industry eyes changes to the entire idea of car ownership. Starting next year they'll be letting employees at the Warren Tech Center test autonomous Chevrolet Volts, and they'll be doing a ZipCar-esque sharing program in New York. Via The Detroit News:
As part of the changing transportation landscape, GM is exploring new modes of ownership. It has launched a car-sharing program in New York City; another citywide car-sharing program is coming to another U.S. city early next year, said Mike Ableson, vice president of strategy and global portfolio planning. GM did not identify the other city.

GM's Let's Drive NYC car-sharing program is available to residents of a 479-unit luxury apartment building; they receive three hours of vehicle use per month as part of their apartment rent. After that, they can rent for less than $10 an hour up to $75 a day. The fleet includes Chevrolet Trax and Equinox vehicles.
Reverse: Watkins Glen
Neutral: Should Automakers Get Into Car Sharing?
I actually think it's a smart idea, especially in cities when people may not need to own a car but are willing to pay for one every now and then. Why not compete directly with ZipCar?
---
Contact the author at patrick@jalopnik.com.