The other day I reported on a brand-new supercar company, Lyons Motor Cars. While it seemed like they were earnest and have put a lot of effort into their plans, the harsh reality is that their car has about as much of a chance of becoming real as does the Annihilator, the "Fully Customizable Dream Car" proposed by a bonkers Kickstarter campaign.
"What is the Annihilator?" you're probably screaming right now, head swiveling around madly, eyes darting in their sockets like a pair of hummingbirds trapped in those little vending machine capsules. Well, my friends,
ANNIHILATOR is a NO holds bar super car built 4 21st century
... and you know they mean fucking business because the writer replaced the three-letter preposition 'for' with the homophonic numeral '4,' saving valuable time. You know, like Prince would do? Here, just watch the video. It's worth it.
Let's hear what else this visionary has to say about this new 1000 HP supercar that will get fantastic gas mileage and run for about 100 years:
UlTRA Car Company, Making Super cars affordable to EVERYONE not just the super rich. Weather you prefer maximum aerodynamics, mild, wild, or extreme The ANNIHILATOR will be your own %100 fully customized from the factory, One of a Kind DREAM car with unparalleled reliability, 1,000HP with the push of a button, and designed to be easy to fix when routine maintenance if finally required. Building Your customized ANNIHILATOR starts off at the ULTRA Builder page which displays your dream car customization's in real time. You start by picking out the exterior features of your ANNIHILATOR Including the Front Bumpers, Rear Bumpers, Side skirts, Front Fenders, Rear Fenders, wide body add ons, Door Caps, Hoods, Wings, Head lights, Tail lights, Mirrors, air canards, air scoops, diffusers, decals, colors of everything, many other options, and of course ANY color of paint. After your done designing your DREAM car. ULTRA Car Company will build it and YOU will be able to start Driving your DREAM car in just a few short months. But we cant build you your DREAM car with out your help TODAY. So will you join the automotive revolution to change the world by becoming an ULTRA Car Company Member TODAY?
G/O Media may get a commission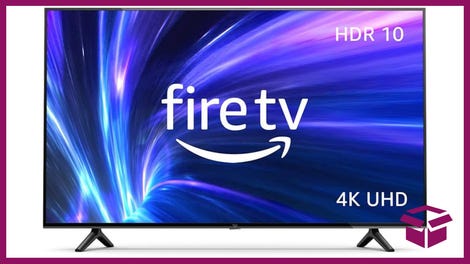 42% Off
Amazon Fire TV 50" 4K Smart TV
Now, I'm pretty sure this is a joke, but the amazing thing is just how much it actually sounds like the pitches of most startup supercar companies. They're always game changers, they always have 1000+HP, they always do over 200MPH, they all have some revolutionary technology — cryogenically hardened steel, RF replacing wiring harnesses, whatever — and it almost always ends up at the same place, which is nowhere, at 200 MPH.
Amazingly, this guy has $1000 pledged? Wow! Way to go, buddy! I'm sure it won't be long before you car run out to Harbor Freight and pick up what you need for
building of Prototype, build customization molds, and buy equipment / materials to start Full scale production.
Seriously, though, this is hilarious and fun, but don't give this guy your money. As your personal financial advisor (remember, we talked about that?) I counsel strongly against it.
Instead, you should invest in my cabover supercar company, which will have a 2200HP car that uses maglev seat runners for otherworldly comfort and uses body panels made from frozen helium, for lightness.