I have to hand it to you guys. After reading our story yesterday on the bizarre claims and lies about celebrity endorsements made by Panama-based Super Replicas, many of you Jalops chimed in with even more evidence that the company that promises $20,000 exotic car replicas is defrauding people.
You'll recall that I asked a New York-based representative of the company also known as "Top Gear Carbon Copies" to send me proof that they actually do produce the high-end supercar replicas that they claim to in their litany of YouTube videos, websites, and Facebook pages.
They almost never show the completed replica products online, and their videos feature cars that appear to be the actual, original exotics, not replicas.
That representative sent me photos of a man identified as Rither Sanchez in some videos standing next to orange and green Lamborghinis, which he said were replicas. Super Replicas also claims that car is a copy on their Flickr page, and one that can be had for just $38,000. One of those pictures can be seen below:
G/O Media may get a commission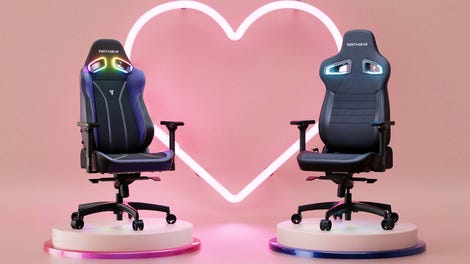 Up to $150 off
Vertagear Gaming Chairs
Not so, says Andrew Link, a photographer and photo director for Rides Magazine. Link emailed me to say that he has photographed the orange Lamborghini LP 670-4 SV a few times for the magazine. He told me it was done up by MC Customs of Miami.
It's on that cover, to the left of the silver Rolls Royce. I called Link's contact at the shop, and guess what they told me?
"That is ours," said Paul Rosa of MC Customs. "That is ours for sure. It looks exactly like the car we did, right down to the wheels and everything."
Rosa told me that they originally customized that Lamborghini for pro baseball player Kelvim Escobar in 2009. That's why it says "KE" on the side in some of their photos. It can even be seen in at least one music video Escobar had a cameo in.
Rosa said Escobar ended up selling the car, although he was not sure when. This, he said, explains why it no longer has the "KE" on the side. It was most likely removed before the sale or by the new owner.
"It's just a decal that can be easily taken off," Rosa said, noting that his shop was not the one that removed it.
Many of the features on the car Super Replicas claimed was one of their copies stood out to Rosa, including the orange amps mounted up front and the unique wheels.
Rosa speculated that Super Replicas' photos were taken at a car show or some other event, and he wondered why they didn't use a more stock-looking Lamborghini. (Rosa added that the customization cost at least $20,000, which makes the promise of a $38,000 replica even less believable.)
It's ridiculous, he said, "That they would claim such a custom build was theirs," Rosa said. "This day and age with social media, it could be recognized immediately online."
Super Replicas also sent us photos of Sanchez standing in front of a green Gallardo Spyder with some Kenwood banners behind it. Can anyone ID where that might be from?
Also, as several of you pointed out in the comments yesterday, the "production facility" shown in many of Super Replicas' videos appears to be that of the Pagani factory, which was featured on the Discovery Channel and can also be seen here.
So great work on this, Jalops. You've given the world even more reasons why people probably shouldn't buy Super Replicas' story — or the cars they claim to build.
UPDATE: Paul Rosa just pointed out to me that the orange Lambo in Super Replicas' photos still has the "KE" Kelvim Escobar logo on the wheel caps. That really must be one hell of a replica.
Photos credit Andrew Link Photography, Flickr