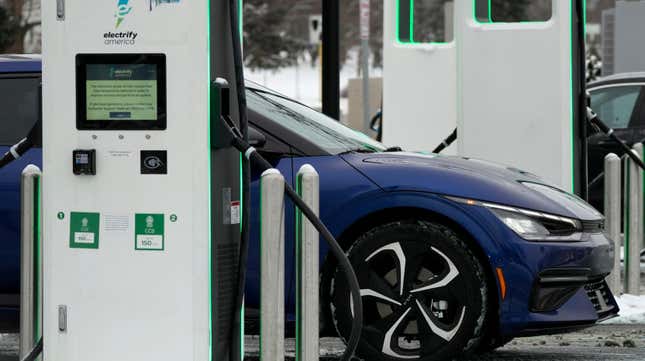 Both automakers and the federal government have come to a consensus: EVs are the next step in transportation. But despite the fact that automakers have thrown billions into developing new EV models along with investments in infrastructure to support these EVs, Business Insider reports a new study shows a lot of Americans still aren't sold on buying an EV as their next vehicle.
According to Bob: Engine Stop-Start Systems Can Actually Be Great
The study was done by auditing company Deloitte and conducted on 9,500 consumers in nine countries. It shows that just 30 percent of new car buyers in the U.S. are considering an EV for their next car. People still want gas vehicles though, as 63 percent of buyers say they're still going for a gas-powered vehicle as their next purchase. Compare those numbers to Europe, where 48 percent of European buyers are considering an EV for their next car and just 36 percent are considering a gas car.

Compared to both Asia and Europe, American adoption of EVs lags. While transition progress was up in 2022 over 2021, data from Deloitte says that adoption may slow some. And there are a few reasons why.

While the usual suspects of charging infrastructure, vehicle range, and battery performance are on buyers' minds, buyers are starting to consider other long-term reasons before their EV purchase. For instance, 74 percent of buyers said battery recycling plans — something many still don't have a plan for — was a factor in their EV purchase. Resale value was another issue buyers were worried about, with 61 percent of buyers worried about an EVs long-term value.

If this study is a broader indication of how buyers feel towards EVs, automakers and the government may way to take a step back and evaluate how to either get more people interested in EVs instead of a get on board or get left behind approach.