The Morning Shift
All your daily car news in one convenient place. Isn't your time more important?
---
1st Gear: While many American cities are synchronizing green lights to improve traffic flow and offering apps to help drivers find parking, European cities are doing the opposite: creating environments openly hostile to cars. The methods vary, but the mission is clear - to make car use expensive and miserable enough to tilt drivers toward more environmentally friendly modes of transportation. Cities including Vienna to Munich and Copenhagen have closed vast swaths of streets to car traffic. Barcelona and Paris have had car lanes eroded by popular bike-sharing programs. Drivers in London and Stockholm pay hefty congestion charges just for entering the heart of the city. And over the past two years, dozens of German cities have joined a national network of "environmental zones" where only cars with low carbon dioxide emissions may enter. Here, we only worry about Mike Bloomberg's war of terror against drivers. Seriously, the man friggin' hates us. Have you seen Broadway or 7th Avenue recently? So annoying.
---
2nd Gear: Bloomberg reports this morning that Ford Motor Co., through its finance arm, plans to sell $788 million of bonds backed by auto leases as investors flock to safer types of securitized debt. The securities may be issued as soon as June 29, according to a person with knowledge of the transaction who declined to be identified because terms aren't public. The company last sold similar debt in October, according to data compiled by Bloomberg.
---
G/O Media may get a commission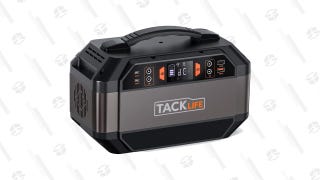 Tacklife Portable Solar Generator
3rd Gear: Saab Automobile, which halted production and stopped paying wages because of a cash shortage, agreed to sell a majority stake in its real-estate holdings to raise funds. Saab will sell 50.1% of Saab Automobile Property AB, the unit that owns the carmaker's factory and other facilities, to a group led by Swedish real estate firm Hemfosa Fastigheter AB, Saab owner Swedish Automobile NV said in a statement. Saab, which will lease back the property, will receive a total consideration of 255 million kronor ($39.5 million) from the deal, which must be approved by Sweden's government and national debt office as well the European Investment Bank.
---
4th Gear: Bloomberg reports that TomTom NV, Europe's largest maker of portable navigation devices, fell the most in more than five years in Amsterdam after slashing its full-year forecasts on a slump in U.S. demand. TomTom dropped as much as 1.37 euros, or 28%, to 3.52 euros and traded at 3.57 euros as of 10:04 a.m. for its steepest decline since October 2005. The shares have dropped by 55% this year, giving the Amsterdam-based company a market value of 794 million euros ($1.1 billion). Rival Garmin Ltd. fell 3.7 percent yesterday in New York. Earnings per share will be in a range of 25 cents to 30 cents in 2011, TomTom said in a statement late yesterday. In April, the company predicted "broadly flat" earnings per share compared with 49 cents in 2010. The market for navigation devices is dying out amid a shift toward iPhones and cars increasingly have built-in navigation, reducing the need for so-called PNDs, or portable navigation devices, said Scott Sutherland, an analyst at Wedbush Securities.
---
5th Gear: Moody's cut its credit rating on Toyota Motor Corp by one notch on Tuesday and will keep it on review for possible further downgrade, saying it will take time for the automaker to return to stable earnings. Moody's Investors Service lowered its senior unsecured rating on Toyota to Aa3 from Aa2, due to concerns that increased global competition, the yen's strength and high raw materials costs will pressure the Japanese automaker's profits into the next financial year.
---
6th Gear: Ford president and CEO Alan Mulally has been named "2011 Chief Executive of the Year" by peers. Nominations for CEO of the Year were garnered from among the 147,000 readers of Chief Executive magazine. The ten most frequently cited nominations were evaluated and a winner voted upon at a meeting of a peer selection committee, which took place earlier this year in New York City. Mulally said by email he thought it was "so neat for our extended Ford enterprise and our industry." Aww, shucks, he just called it "neat." Seriously. That's the word he used. Look it up.
---
Reverse:
⏎ A New Yorker With Flair Offers Praise for Another. [New York Times]
⏎ Ben Whitworth on supercar gearboxes. [Car]
⏎ Jaguar XF travels 816 miles on a single tank. [Auto Express]
⏎ Customer unhappy with car's extended warranty; former owners of U.S. Fidelis indicted. [Wave3]
⏎ Johnson Controls to convert Ohio plant to build advanced batteries. [Automotive News]
⏎ Could Ram Offer an Air Suspension for its Heavy-Duty Pickups? [PickupTrucks.com]
⏎ Toyota Camry, Honda Accord Top Cars.com's American-Made Index. [Cars.com]
⏎ I'm seeing Transformers: Dark of the Moon tonight. Think it'll suck?
---
Today in Automotive History:
On this day in 1953, workers at a Chevrolet plant in Flint, Michigan, assemble the first Corvette, a two-seater sports car that would become an American icon. The first completed production car rolled off the assembly line two days later, one of just 300 Corvettes made that year. [History]
Show us your tips!
Got tips for our editors? Want to anonymously dish some dirt on a competitor? Know something about a secret car? Email us at tips@jalopnik.com.
Lost in our new layout?
Click here for the Opposite Lock or Tips forums. Want a more "blog-like" look? Click the button up top next to "Top Stories."
Get more Jalopnik!
Want even more Jalopnik? Want to know which of your friends read us? "Like" us on Facebook and follow us on Twitter.