Two months ago, Autoline posted a video in which engineering and manufacturing expert Sandy Munro—CEO of Munro & Associates, a Detroit-area consulting firm that dismantles and analyzes how cars are made—compared the Tesla Model 3's build quality to a Kia from the 1990s. But in a new discussion, Munro has lots of positive things to say about Tesla's most important new car.
Munro & Associates purchased two Model 3s and is now in the process of tearing them down and building cost maps that describe how Tesla builds the vehicle and for how much money. While CEO Sandy Munro still maintains that the car "is not such a good build" in the recent discussion with Autoline (shown below), he does have great things to say about the Tesla's suspension and electronics.
Early in the video, Sandy Munro talks about the Tesla he purchased, and how, while he's disappointed by some aspects of the car, there's a lot of good technology in the Model 3:
"We have no axe to grind. We bought the Tesla, and I was expecting something different. Mechanically, I don't have...not much good to say. But if you want to start talking about the good stuff on the Tesla..."
From there, Munro lauds the car's skateboard and shows an Automatic Drive Module, praising the density of the electronics on the circuit board—an attribute that he says offers benefits in terms of speed and packaging space:
"The density of this population is like nobody's got. Nobody...This is the technology we would see in really high end computers...this is spectacular. Spectacular!"
G/O Media may get a commission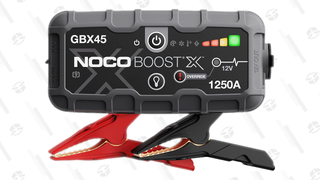 13% Off
Noco Boost X GBX75 Jump Starter
He continues about the car's electronics, saying:
"Anybody that doesn't look at the electronics on the Tesla is out of his mind... this is not some Mickey Mouse outfit that you can just dismiss."
Munro also had good things to say about the car's battery, particularly its power density, how well it is glued together and the fact that the current differential between blocks was so small. "Nobody can balance batteries that close. Nobody. Nobody's ever done that," he says in the interview.
And while Sandy Munro does say he's confused by a number of design decisions related to the body—for example, he implies that Tesla has extra body panels where they're not needed, adding cost and weight to the overall structure—he does say he's a fan of the car's handling:
"I was very impressed... This thing drives really well...That car, I mean, when I wanted to go, it went. It felt balanced. There was no understeer, no oversteer, no nothing. It did exactly what I wanted it to do."
It seems that Munro thinks Tesla needs help with manufacturing, and that Tesla could stand to get assistance from established players in the auto industry to solve that issue. In fact, when asked about whether having auto supplier Magna come in and assemble the cars would improve the Model 3, Munro says "I think that even Toyota would be, basically crapping their pants." It is possible this car is one of the early Model 3 builds from late last year or early 2018; Tesla says it has ramped up the quality of these since production began.
He goes on to say that Tesla ignoring established auto manufacturing processes is what's hurting the company, but at the same time, other automakers ignoring Tesla's innovative electronics would be equally unwise. He went on, saying the Big Three should be careful if they're not paying attention to the Model 3's innovative electronics, saying:
"The guys that really need help are the Detroit boys. Because this is going to kick their ass... this is wicked... We found components on here we never saw before."
It's worth mentioning that Munro has incentive to tell the Big Three that they should be worried about Tesla's technology, and the firm also has incentive to tell Tesla that it should seek help with manufacturing. After all, Munro & Associates is a consultancy in the business of selling reports to help companies learn how to design cars.
We reached out to Tesla for comment and will update when we hear back.
h/t: Bryce