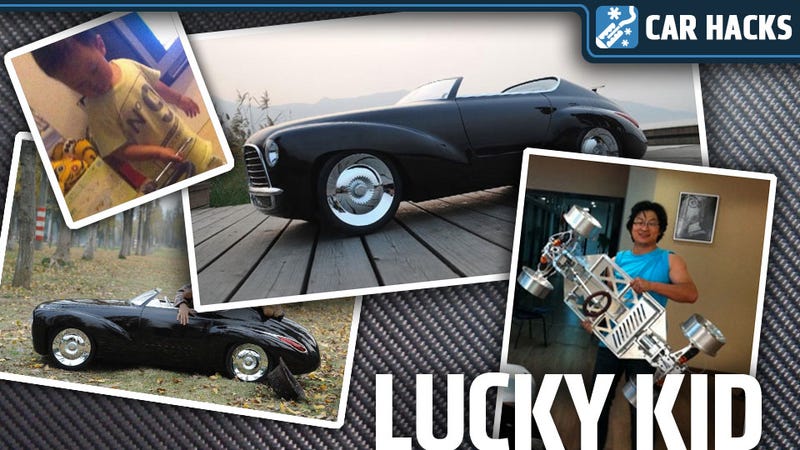 First of all, I need to make sure my two-year old son Otto never sees this amazing electric car an engineer dad built for his son. While I'm sure Otto's childhood will involve some sort of home-built go-karts and things like that, whatever I make is going to look like it was carved from a lumpy hippo turd next to this sleek beauty. And mine will come with lots of warnings about not to touch things that will make the whole thing explode.
The builder of this sub-scale, carbon-fiber beauty is a Chinese automotive engineer who goes by the handle Lingziluo, and, according to his answers on a reddit thread, the little car cost over $15,000 in parts, and if you were to factor in the labor cost, would easily cost more than a new BMW 3 Series. That kid better not complain about getting underpants for his birthday.
The little car itself is extremely technically impressive. It's built on a custom aluminum (?) chassis that resembles a VW air-cooled pan, but with much better suspension. Double wishbone suspension, in fact, along with rack-and-pinion steering, four-wheel disc brakes, and an electric motor/transaxle unit mounted just ahead of the rear axle. Custom alloy rims mount the rubber at the corners, and the whole thing has a build quality that both looks on par with custom full-sized race cars and is so far beyond what any of the real cars I own has it hurts a little.
The all carbon-fiber body has a drag coefficient (0.24) as low as a Tesla Model S. The styling seems to be inspired by the look of '50s-era American cars with a lowrider/lead-sled treatment, and the total package is capable of going, get this, up to 86 MPH. Since even Chinese child-endangerment laws would likely look down at a toddler hauling that degree of ass, Lingziluo says he's governed the top speed to about 3 MPH.
There's a full LED lighting system, an audio system, and seat belts in the car, because of course there is. Originally, the car seems to have been painted black, but now sports a fetching GT-40 style Gulf livery.
Lingziluo used Solidworks and AutoCad for the design work, and his job afforded him access to all the complex machine tools needed to machine the aluminum and make the complex carbon fiber molds. Even with all these impressive tool resources at his disposal, Lingziluo waxes philosophical about what's important in a project like this:
"Tool is just tool, mind makes the difference."
Very true, Lingziluo. But tool is a pretty big deal as well.
This is a staggeringly-well engineered project by absolutely any standard. Scaled up, it would make an amazing real electric sportscar, and at its current scale it's a humbling testament to what a dad's love for his son can produce.
If this is what Chinese auto engineers are like, then it seems that the way to solve the seemingly constant quality issues with most Chinese mass-produced cars would be to tell all the engineers that the cars are for their kids. They'd be unbeatable.