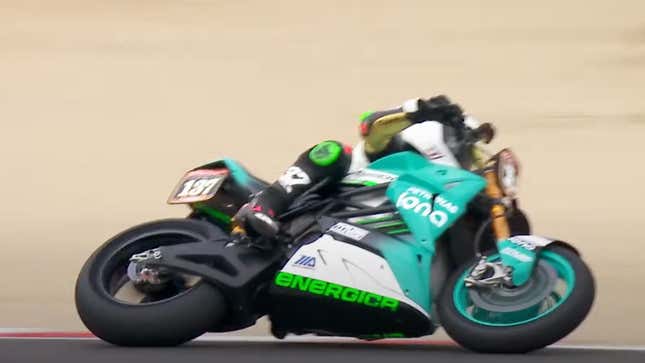 This weekend during the Circuit of the Americas round of MotoAmerica's two-wheeled traveling circus history was made. As the only electric-powered rider in the Roland Sands Super Hooligan class, Stefano Mesa's Energica Eva Ribelle RS has been fighting an uphill battle for a couple of seasons now. With some serious development work this year, Mesa has managed to take the fight to the gasoline burners, and during Saturday's race found his way onto the podium with a second-place finish.
There aren't many places where electric machines can compete on even footing with gasoline-powered race cars. Electric racing is typically best suited to events that are short sprints or time attacks, like Pikes Peak, drag racing, drifting, and rallycross, but there aren't many wheel-to-wheel series that pit electric machines against gas machines. That's one of the best aspects of what MotoAmerica is doing right now, enshrining a run-what-you-brung mentality that sees a lot of entries from privateers trying to take on the best in the world.
The Energica's strong suit has always been acceleration from a stop, and the series uses a standing start grid. Mesa frequently manages to give the field a shock when he shoots away from the green flag at mach one-thousand. At the Laguna Seca round earlier this year Mesa launched from the second row up to the lead, and fought hard but couldn't keep the lead for long, ultimately finishing fourth. Prior to this weekend Mesa's best finish was a fourth at The Ridge in June.
When the series rolled into Texas Mesa was confident. He and his team have been working on straight line speed, trying to extend the benefit of electric propulsion against the gas bikes from Indian, KTM, BMW, and Harley-Davidson. With a serious weight disadvantage due to the heavy batteries onboard, and a potentially heat-induced power loss, Mesa had a lot to overcome, but the long straights of COTA and the defensible slow corners played into his hand.
At the start Mesa jumped from fifth on the grid to second, threading the needle between a pair of front row riders, slowing all of them up the hill toward turn one. This allowed Indian rider Tyler O'Hara to jump out to the lead and check out over Mesa in second. Behind it was the other Indian rider Jeremy McWilliams fighting with Harley's lead rider Cory West.
A red flag a couple of laps later paused the sprint race for a while, allowing the Energica to grab a few watts of extra power, and a fresh hit of cooling air to the batteries, probably aiding his run when the race went green again. At the restart the Indian duo blasted away, and West managed to get past Mesa as well, sitting him in fourth. On absolute speed and merit Mesa managed to pass West for third, shooting past in the draft and fighting hard to take the position on the back straight to get third. When the two Indian riders got together on the final lap ending with Jeremy McWilliams high-siding to a DNF, that promoted Mesa to second overall.
The SMCO team tried to run a pair of electric Livewires in Super Hooligans a couple of years ago, but gave up before seeing any success. Mesa and the Energica team are alone in this endeavor, and have managed to find a lot of speed in the last two seasons. Personally I'd really love to see some factory support from LiveWire or Zero in this series to really prove what e-moto racing can do.
For the time being, hats off to Mesa for taking this much-desired podium on speed and speed alone. Here's hoping for continued success for electric motorcycles in the series.