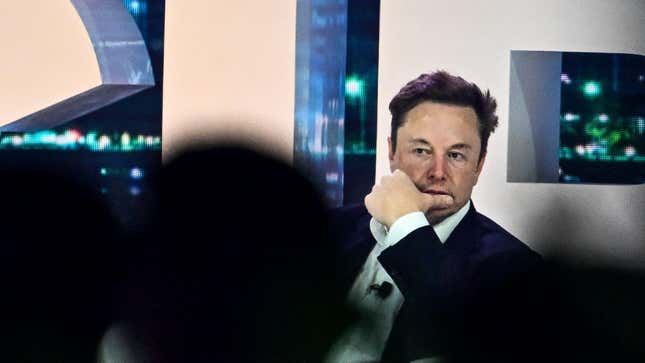 Elon Musk is having a very bad week indeed, and that's despite it only being Tuesday. Somehow, it just got worse: a federal court has rejected Musk's attempt to get himself released from his Securities and Exchange Commission still-required Twitter sitter, even though he owns the whole social media company.
That's after the U.S. Virgin Islands issued a subpoena for Musk to turn over any communications with the deceased child trafficker Jeffrey Epstein and billionaire George Soros' fund dumped its Tesla holdings (eliciting some ugly, antisemitic conspiracy theory signaling from Musk.)
A federal appeals court rejected Musk's arguments that the SEC was launching meritless witch hunts in order to infringe on his free speech as meritless, the Verge reports:
The court notes that, to the contrary, the SEC has only investigated three of his tweets: the infamous 2018 "funding secured" tweet that subsequently resulted in the consent decree, a $40 million fine, and Musk losing the chairmanship of Tesla; and two other tweets, one that contained misleading information about Tesla's vehicle production, and the other regarding a poll proposing Musk sell 10 percent of his Tesla stock.

"Each tweet plausibly violated the terms of the consent decree," the Court of Appeals for the Second Circuit in New York City wrote in its ruling.

[...]

But ever since agreeing to the settlement with the SEC, Musk has been trying to wriggle his way out of the consent decree that he have a lawyer review tweets that could have a material impact on Tesla before publishing them. If the Twitter sitter does indeed exist, no one has stepped forward to claim the job. Tesla has declined to identify the person. And Bloomberg's Dana Hull, who has been investigating the Twitter sitter for years, has yet to turn up a name.

Whoever the mystery lawyer may be, the court was unmoved by Musk's arguments that he should be allowed to tweet unfettered by the consent decree. "Had Musk wished to preserve his right to tweet without even limited internal oversight concerning certain Tesla-related topics, he had 'the right to litigate and defend against the [SEC's] charges' or to negotiate a different agreement — but he chose not to do so," the court of appeals wrote. "Having made that choice, he may not use Rule 60 to collaterally reopen a final judgment merely because he has now changed his mind."

Elon Musk has been required to engage this mysterious court-ordered Twitter sitter ever since 2018, when Musk announced his intentions to take Tesla private when prices hit $420 a share and even told his millions of followers he had "secured funding" for the transition. The fraud case ended with Musk being ousted as chairman of the Tesla board (though not as CEO) a $20 million fine and an agreement that all future Tesla-based tweets would go through a lawyer to make sure he wasn't playing fast and loose with the stock price. Though it's quite possible this process was never implemented as he's continued tweeting fairly iffy things about the company and never identified which lawyer is reviewing his tweets.
Of course, these are not the only legal challenges Tesla and, by extension, Musk is facing in the next few months. The Department of Justice, the National Highway Safety Administration and the California Department of Vehicles are all investigating Tesla and its grandiose self-driving claims. And that's not counting private wrongful death suits, stockholder suits, and customer suits against the company.
Maybe it's time for the multi-billionaire to just go back to bed and start strong next week.