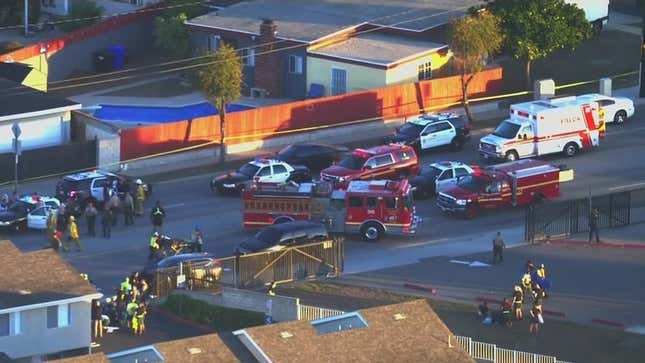 The streets near the Sheriff's Training Academy and Regional Services Center in Whittier, California were in chaos yesterday morning after a driver reportedly ran over a group of law enforcement recruits out for a morning jog. Fox 11 reports that the incident happened around 6:30 am.
Editor's Note: This article was originally published at 12:40 PM on Wednesday, November 16th. New details have since been added.
The driver reportedly crossed the double-yellow line into the wrong lane and ran into the group, which was made up of as many as 75 joggers total, before crashing into a pole. Emergency personnel were seen triaging patients on the scene, sending some away in ambulances, while medical helicopters were flown in to evacuate two victims.
Officials say, "16 recruits suffered minor injuries, four had moderate injuries, and five were critically injured." That number has increased since initial reports had the total at 15 and later 22.
The driver, who sustained minor injuries and had to be treated at the hospital, was given a sobriety test, which officials have confirmed he passed. He has, however, been arrested for assault with a deadly weapon, and law enforcement says it believes he may have been under the influence of a yet-unconfirmed drug. Additional charges are reportedly pending, and he is scheduled to appear in court tomorrow.

A large group of law enforcement recruits going for a group jog is a common sight in this neighborhood. One nearby resident told Fox11, "the recruits often jog in the area and run in packs wearing high-visibility vests." Despite the arrest, we still don't actually know what caused the driver to hit the victims.
The girlfriend of one of the victims told Fox 11 that the recruits believe the incident may have been intentional. "He just told us the car went straight into them and several of his classmates were severely injured," the woman, who was not at the scene when the incident occurred, said. "The driver was still on the accelerator," she added, noting that someone from the group of recruits was "trying to break the car window just trying to get the driver to stop because he was still just pressing on the gas."