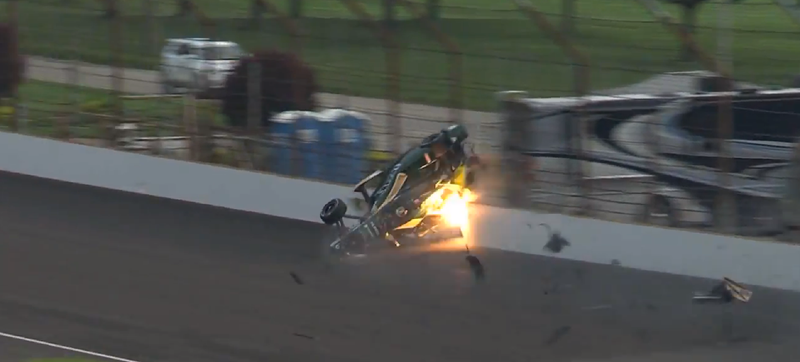 Ed Carpenter is the latest driver to experience a frightening flip in IndyCar. His #20 Chevrolet spun exiting turn 2 during a practice session this morning, hit the wall backwards, then climbed up the wall, eventually landing upside-down. The result was pretty scary. Thankfully, he escaped the flip unharmed.

If there's anything I'm extremely impressed with, it's the strength of the passenger area on these cars. This car slid on its roll hoop for quite a while before coming to a stop, and Carpenter was nestled safely down inside.
The number of flips this week has brought increased scrutiny to IndyCar's new aero kits. Carpenter told Marshall Pruett of Racer that he believes there are other problems besides the aero kits, however, he would not elaborate on what those might be.
Per IndyCar, Carpenter has been checked, cleared and released from the medical center at Indianapolis Motor Speedway.
The series paused the session to repair the barrier that was moved from the hit. According to motorsports writer John Oreovicz, track repairs are expected to last for at least another hour.
(Want to keep up with the action in real time? IndyCar has a stream here.)

---
Contact the author at stef.schrader@jalopnik.com.