"Technically they didn't serve the sushi in the bus," laughed a man who attended a party thrown by Ford in the Henry Ford Museum last night. "But you could have carried the sushi up there."
Ford, in partnership with ad agency Ogilvy, flew 146 "influencers," primarily bloggers, from as far away as China and Australia, to the 2012 North American International Auto Show in Detroit, Michigan, and put them up in The Henry hotel (formerly a Ritz-Carlton).
Scott Monty, Ford's head of social media, addressed the assembled group of lifestyle diarists and mommy bloggers. "He told us there's a Saturday Evening Post with an old Ford ad that he keeps in his office," explained one of the invited. "And it looks out over a mountain or something. and it says 'Cars are for everyone.' [Monty said] 'That's why you're here. Because cars are for everyone.'"
Ford approached the influencers primarily pitching a chance to tour their design facility in a "Design Fantasy Camp". The emphasis on blogging about Ford and the auto show (using the #FORDNAIAS hash tag) wasn't hidden, nor was it underlined.
G/O Media may get a commission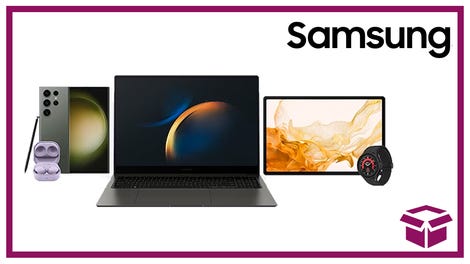 24 hour deals
Discover Samsung - Daily Deal
One participant has been on "about a hundred of these sort of things" over the last few years (although not all of them are necessarily as involved as Ford's). "You start out by going on these test drive sort of things. Then they reach out to you: We have an experience for you!" "We have a design fantasy camp, where we walk you through the entire part of designing a car."
Other manufacturers take a similar tack. "Oh, we know you're really into design. So we want to invite you to a private tour of Frank Lloyd Wright's house. Oh, and by the way, we want you to drive this new Volkswagen!"
"[The Ford Fantasy Camp] was the bait. And then they're like, oh, by the way, you're going to go to the Detroit Auto Show and you're going to have a V.I.P. experience."
Ford has been relatively hands-off about asking its guests to blog positively—or even post at all. There was no official direction to disclaim the details of the trip from Ford.
One man described Ford's blandishments. "In the Ford booth down on the show floor they have a whole section [for influencers]. They have Wi-Fi just for us. They have a hashtag. They kind of just suggest it. 'Here's an opportunity! You've got from 2PM to 3PM to do your work!'"
"Out of the three I've been on so far, Ford has been the least pushy," said an influencer. "Maybe it's because there are so many of us, so there's little one-on-one action. They're mostly waving us around. 'The bus is this way! The root beer float machine is that way!'"
From Ford/Ogilvy's pitch email to influencers describing the "Fantasy Camp":

• Interactive Vehicle Design Exercise: Help Ford's lead designers find inspiration for a "new" vehicle – we'll even "build" a vehicle by the end of the demonstration!

• Sustainable Materials Lab Exploration: Visit the sustainable materials lab at Ford World Headquarters and see how Ford makes materials out of sustainable foods like coconuts, soybeans and carrots! Touch, even taste, the materials!

• Clay Modeling Experience: Tour our modeling studios and see how Ford makes vehicles entirely out of clay. View the tools and play with the clay that top Ford designers use.

• Digital Design Tools Presentation: Ever wonder what technology and tools Ford uses to help craft its forward-thinking and innovative vehicles? Now you'll know exactly how it's done.

• Camouflage Clinic: Why does Ford use various patters and designs on its vehicles? This interactive presentation will not only explain why, but you'll even get to "camo" one of Ford's prototype vehicles!

• Enhanced Active Park Assist and SYNC Demonstrations: Get in-depth demonstrations of Active Park Assist and SYNC, the technology in Ford's cars that let's you stream music from your mobile phone, use voice command while driving and make seamless calls on-the-go.