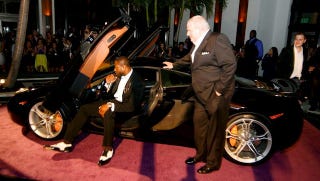 While looking through the New York Times Magazine spread on Dwyane Wade, the Miami New Times blog wondered what exactly was on Wade's bookshelf in one picture. It turns out he has a fair collection of muscle car literature.
The full list of books is as follows:
The Basketball Book
Hemi Muscle Cars
The Complete Book of Classic GM Muscle
Committed to the Image: Contemporary Black Photographers
Dressing the Man: Mastering the Art of Permanent Fashion
Jacob Lawrence: American Painter
The Complete Book of Dodge and Plymouth Muscle
The Art of Romare Bearden
Million-Dollar Muscle Cars
Road to Freedom: Photographs of the Civil Rights Movement
Son of Promise, Child of Hope
Wake Up Our Souls: A Celebration of African American Artists
One Hundred Years of Menswear
FreeDarko Presents: The Undisputed Guide to Pro Basketball History
So over a quarter of his bookcase is filled with books on muscle cars: two books on Mopars, one on GMs, and one of general interest.
Mr. Wade, if you're looking for someone to help you pick out the right 426 Road Runner to park next to your McLaren, you can call us any time.
Photo Credit: Bob Metelus