Long stretches of desert highway seem perfect for speedy driving. Or they must have for one Emirati woman, who racked up 80 speeding tickets totaling 127,000 dirhams ($35,000) commuting back and forth between the United Arab Emirates of Abu Dhabi and Dubai.
It only took her six months to get all those tickets. BMW asshattery is a truly international phenomenon.
The unnamed woman, in her mid-20s according to Al Bayan, was driving a 2011 BMW worth more than 350,000 dirhams ($95,000). Since she was only making about $50,000 per year, she didn't have enough money to pay off the tickets, and had to give up the Bimmer to fulfill her obligations with the Dubai Police Department's traffic division.
Al Bayan said that the woman lives in the emirate of Sharjah (just east of Dubai), driving three hours each way to reach work in Abu Dhabi every day. Major General Engineer Mohammed Saif Al Zafeen, the traffic division's director, said in a statement that although the woman had a long, difficult commute, he couldn't excuse her very frequent speedy driving. Citing highway safety concerns, Major General Zafeen suggested that people ought to consider closing the geographic gap between home and work.
Now BMW-less, maybe the young lady can make like a prole and grab an old B1 Passat for her six-hour commute. Chances are better that she won't get as many speeding tickets in an old beater, but you never know.
G/O Media may get a commission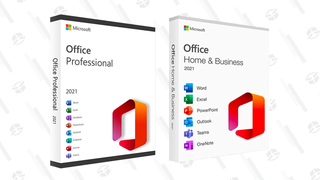 89% off
Microsoft Office Professional 2021 Lifetime License
Photo Credit: Ben Smith/Shutterstock.com