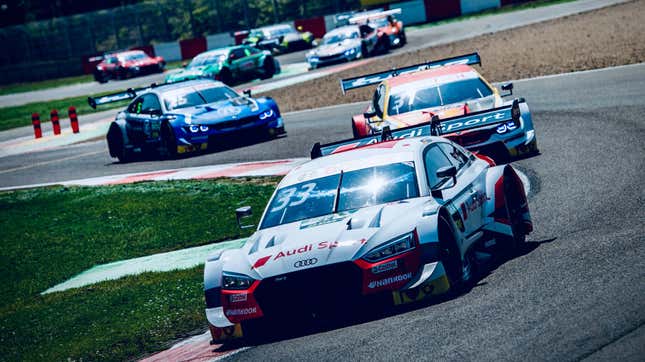 The future of the Deutsche Tourenwagen Meisterschaft looks a bit bleak at the moment. We're in the early stages of an international economic depression, and it was bound to cause the tightening of the purse strings at many automotive companies, as well as non-automotive sponsors. On Monday, Audi announced it was ending its efforts in the DTM championship at the end of the 2020 season, and that's if a 2020 season even happens.
Cristo Fernandez Is Playing His First Car In The New 'Transformers: Rise Of The Beasts'
Audi has been an integral part of DTM since 2000. Including its short stint in the old DTM from 1990 until 1992, Audi has earned a massive 11 championships in the series. Winning 11 championships from 23 years of competition is nothing to scoff at, but apparently it's time to say goodbye to DTM's Mister 500.
The news comes as a blow to the series, as Mercedes left in 2018 and Aston Martin's attempts at a foray into the series fizzled after a single 2019 season. This leaves BMW as the lone manufacturer with an official DTM presence. The series has been in dire straits before, but it has never been down to a single OEM relationship before. I gotta tell ya, it's not looking good.
DTM is incredibly expensive. Not only are the cars incredibly advanced things with full carbon fiber bodywork, underneath that bodywork is essentially a formula car. Where there once were street-related machines now stands a car that is incredibly advanced and expensive to operate. It is understood that BMW and Audi are spending between 30 and 50 million euros to operate in DTM, with each individual privateer team spending an additional 5-6 million euros, thanks to a report from motorsport.com.
In an effort to broaden the appeal of what is essentially a Germany-centric regional racing series, DTM has been working toward a converged "Class 1" set of regulations shared with Japan's Super GT GT500 class. In 2019 the series made the final push into Class 1 spec with a new turbocharged engine, which naturally caused costs to balloon.
So, short of scrapping the series which has been around since 1984, what are DTM's options? How can this once great series pick up the pieces and push forward into an uncertain future? Obviously running a Spec BMW series isn't an option.
Option 1: Appeal To Super GT Teams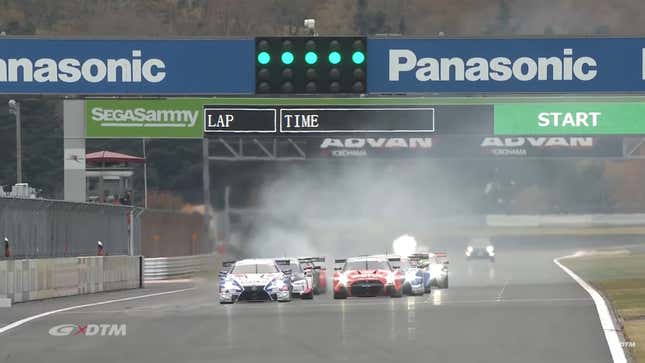 With the Class 1 convergence complete as of the 2019 season, DTM can appeal to the three Japanese manufacturers running in the GT500 class of Super GT. Without any major changes, Nissan's GT-R, Toyota's Supra, and Honda's NSX GT500 chassis racers are eligible for competition in a highly regarded European championship.
BMW would certainly welcome a new manufacturer to the series, or all three perhaps. And it could inject a bit of international flair that the series has been lacking as of late.
Last year Super GT and DTM held a non-points joint double-header race at Mt. Fuji in Japan. The first race was won by Nick Cassidy in a TOM'S Lexus, while the second race was won by Narain Karthikeyan in a Nakajima Racing Honda NSX.
This is likely the easiest option as the cars already exist with no modifications necessary to the current rulebook. However, it doesn't address the incredible cost to operate a team in the championship. The cars would stay just as expensive and the cost of entry for a new manufacturer would still be next level.
As we face a future where investment in motorsports is likely to retract further, it doesn't seem likely DTM will get many takers for this option.
Option 2: Pivot To GT3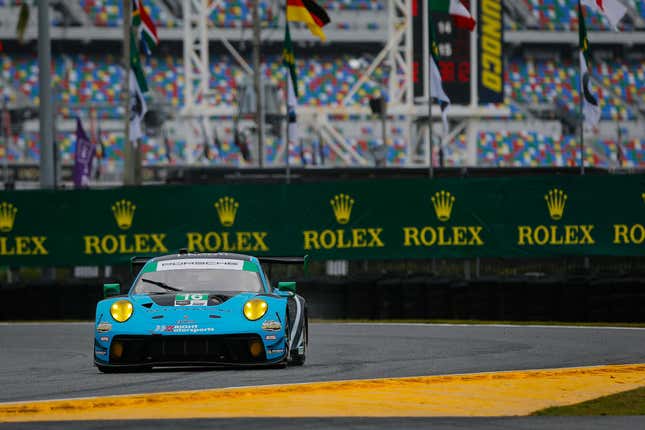 GT3 has exploded in recent years with a huge influx of manufacturers, race teams, drivers, and sponsors wanting to play in this particular sandbox. There are a number of series racing to this formula, notably IMSA's GTD class, Le Mans Cup, and various SRO-affiliated series for sprint and endurance alike. The cars are versatile and can be raced at any number of different circuits.
Costs for a GT3-based DTM would descend back into Earth's atmosphere as manufacturers could easily support another team running the same chassis. There would be little in the way of costly development costs, and the work OEMs do to support these racers can be amortized out across multiple championships. Even for the DTM privateer teams themselves, there are plenty of non-championship options for running GT3s in Europe, allowing them to participate in multiple championships without developing multiple different chassis.
With worldwide manufacturer support in the class from Porsche, Mercedes, Audi, Lamborghini, Lexus, Acura/Honda, Ferrari, McLaren, BMW, and Aston Martin among others, it's no surprise that many have flocked to this formula. The racing is often close and intense, but the cars are easy enough to drive that it doesn't discourage gentleman drivers from participating.
Of the options presented here, this is my least favorite option. For one thing, GT3 is already everywhere and the last thing we need is another damn GT3 series. Forget worldwide, Germany already has two GT3-based series in the form of ADAC GT3 Masters and VLN.
Option 3: GT3, but make it sedans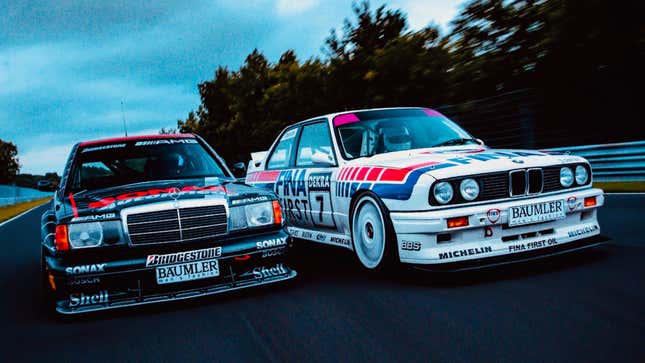 What the GT3 class has done for international tin-top sports car racing, DTM could easily do for international tin-top sedan racing. It would be something of a return to form for the series that counts its glory days as the 1980s. Limit the class to upright three-box mid or full-sized sedans with rear or all-wheel drive and put a budget cap on it. The DTM organizers can keep the class even and fair with a well-regulated balance of performance. Done and done.
I would love to see the best sedans BMW and Mercedes can build up against the likes of an Infiniti Q60, Genesis G70, Alfa Giulia, or Cadillac CT5. Maybe throw in the aging Chrysler 300 chassis for good measure. Could you imagine the homologation specials and Nurburgring-tuned track chassis arms race that such a thing would instigate?
GT3 was ready for its close up in 2006 and as manufacturers flocked down-budget in a post-2008 economy the class only grew stronger. It is possible that the GT3 class owes the entirety of its successes to economic collapse. And here we sit on the precipice of another economic collapse, it's time for DTM to instigate another sea change in the world of international sedan racing.
Now, what could such a sea change in sedan racing do for motorsport? Imagine a world where this formula takes over all of the regional sedan racing championships all over the world? Converge this neue DTM with a struggling Australia Supercars, get manufacturer support and spread it to Super GT in a new third class perhaps. BTCC, WTCC, revive the North American Touring Car Championship, give Trans Am a class people might actually give a shit about, and hell, maybe even NASCAR. Why not?
It's a whole new world out there, people. Open your minds to a global unified sedan championship. It could change everything.
What about TCR?
I know some of you are shouting TCR at your computer screens right now, but could you imagine a front-wheel drive-based DTM series with hot hatchbacks? Is that the kind of thing a Meisterschaft can be built upon? I don't think so.