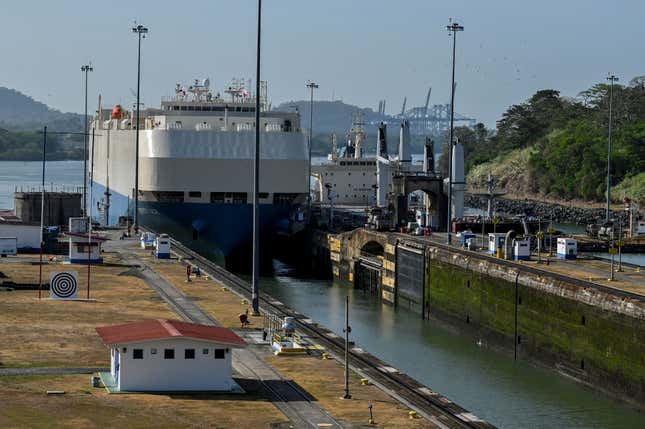 The Panama Canal, one of the major shipping routes through which 40 percent of container goods sold in America travels, currently has a 21-day wait time for ships attempting to make the passage. And the situation will only get worse before it gets better.

The number of vessels waiting to sneak between North and South America currently stands at 154. The traffic jam is thanks to a severe drought that has afflicted the area since this Spring. About $270 billion in cargo travels through the canal every year, CNBC reports:
The massive pileup is a result of water conservation measures the Panama Canal Authority deployed in late July due to drought. The PCA has temporarily lowered the availability of booking slots from August 8-August 21 for Panamax vessels, which are the largest vessels that can cross the canal. These vessels can carry 4,500 twenty-foot equivalent units (TEUs), which are the dimensions of a container. The number of pre-booking slots was reduced to 14 daily from 23.


This latest reduction in bookings is on the heels of the PCA reducing the number of vessels allowed to go through the canal in a day. Starting on July 30, 2023, the daily transit capacity of the Panama Canal was adjusted to an average of 32 vessels per day (10 vessels in the newer Neopanamax locks, which serve the larger vessels, and 22 vessels in the older Panamax locks). Before the water conservation measures, transits were 34 to 36 a day.

Not only are reservations for making it through the canal cut down, but the Panama Canal Authority also issued a weight limit of about 40 percent lower than the previous limit, leaving heavier tankers already on their way to the canal in a lurch. Drought conditions have lasted for years now and the multiple lakes which feed the canal and allows the locks to operate, is at a four-year low.
"Those containers left may need another vessel to complete the journey," said Captain Adil Ashiq, head of North America for MarineTraffic told CNBC. "This is going to get worse before it gets better."
The reduction in traffic is already forcing some tankers, like petroleum vessels, to reroute their cargo to the Atlantic Basin. So move over Suez Canal, a hip new waterway crisis is in town to mess up our fragile supply chain.