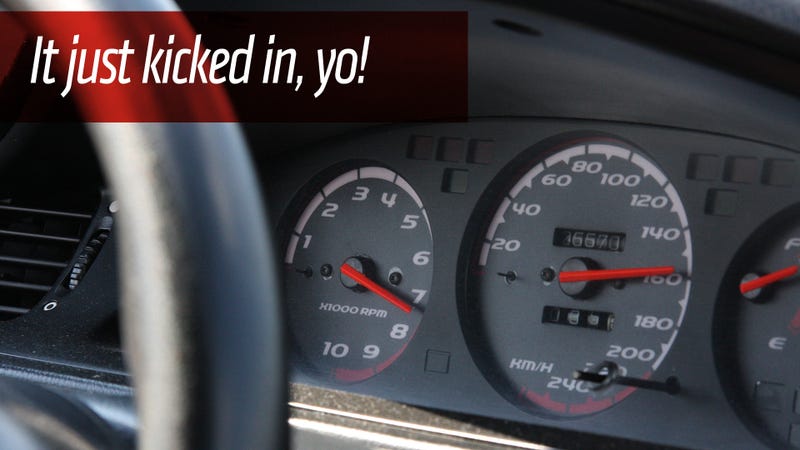 An invitation to the Hungaroring. An old but cleverly tuned Honda Civic to drive. A mixer friend's birthday the night before. The recipe for my first drive at a Formula-1 track.
When the guys over at Totalcar Magazine started organizing an open weekend at the Hungaroring, they were kind enough to invite me too. They possess all sorts of crazy machines for the job, like Aardvark, Karotta's crazy Datsun track car, ShitGun, an AE86 dug out from the holy ground and glued together with chewing gums, or the welded-diff Sierra that could even surprise Ken Block. And I was supposed to arrive with my much-loved Autobianchi. Except that I decided it wasn't ready for track duty. This is where Peti's Civic comes into the picture.
Peti is one of Gawker's developers. We work in separate rooms, only to meet sometimes in front of the fridge. We don't talk much, except when it comes to his Civic. You see, it might look like an ordinary one, but it gets better.
Instead of 90 hp, it has 185 thanks to an engine swap and a sports exhaust. The brakes are bigger, it's got a proper suspension with Toyo tires and a clever upgrade at the rear. The interior is from an Integra Type-R. Oh, and this Civic only eats 100 octane petrol. Just what you need for the track!
And the Hungaroring is kind to Hondas anyway. Just ask Jensen Button, who won his first Grand Prix here in 2006, on his 113th race in F1.
So yeah, the ingredients were all there. Peti only asked if I can drive before allowing me to floor his high-revving pride. The sun was shining, and the parking lot was full of classics which could drive around the track before the time attack people took over to give an idea about what speeds you could achieve even if you're not Sebastian Vettel.
We sort of missed that part of the event due to my massive hangover in the morning.
At 2 pm though, we got the green light, and it was time to see what VTEC is all about. Peti started, and lap by lap, we got to know this slow but rather technical piece of tarmac. I was focusing, enjoying myself, and controlling my stomach at the same time. Quite a challenge. Then, it was my turn.
My first time driving this Civic, and we happened to be in the paddock of an F1 racetrack. But a car is a car after all, so after trying the gears, we headed out for a few fast rounds. I only pushed it to around 80% since it wasn't my car and I didn't know the track, but this old Honda turned out the be more than the sum of its parts.
The brakes gave me confidence, the slight understeer and the limited grip of the street tires provided more than enough feedback to know when to back off, and that 1.6-litre engine packed an unexpected punch. Torque might be useful on a daily bases, but the VTEC experience is closer to what you want when racing.
It's a simple and now quite old technology, but boy does it work! Sitting in a car with 158,000 miles on its clock, there I was, pushing those revs above 8000 to get the extra power. And it didn't fall apart. I mean, most cars don't even rev above 7000, and with this, the party on begins there. Crazy. Having said that, it didn't make me want a Civic, but this even more:
Yes. All car guys should call it a day and start saving up for an NSX. That's what Karotta should have done as well instead of building the most expensive Datsun in the continent which is coming together so slowly that due to some difficulties on the way, he only arrived to the track late in the afternoon when we were about to leave.
Than again, just listen to it:
And who knows? If the planets align and I manage to put a decent suspension under the A112, it might just be all about low weight and less alcohol the next time I visit the Hungaroring...
Photo credits: Getty Images and Máté Petrány/Jalopnik