The phrase "short tracks, short tempers" is a classic in racing, and there isn't a more perfect example of than a recent incident from Bowman Gray Stadium—a wreck for the lead, retaliation under caution, and a grand finale of two cars smacking each other in the infield. This, everyone, is as authentic as it gets.
For those unfamiliar with American short-track racing, Bowman Gray in North Carolina is known for this sort of thing. The races are wild, the retaliation is strong and the stands are packed. The incident below came from a Sportsman race on July 23, and the video is some sort of amazing, metaphorical first fight with trashed race cars:
The angry game of bumper cars began when the No. 68 car of Robbie Brewer tapped into the back of leader John Holleman in the No. 4, sending him into a spin toward the outside wall. Brewer took off into the lead and the caution flag waved for Holleman, which allowed Holleman to catch back up to his opponent.
Directly behind the pace car, Holleman swings to the outside of Brewer and peels off his back bumper. Holleman then smacks into the outside of Brewer and turns him around, subsequently sending the pace car on a detour to get away from the drama.
They took it into the infield this time, but in an earlier incident on June 11, these two same cars wound up stopped on the front stretch. The crowd was wild in another video showing the scene on the front stretch, but that's where the fun stopped—an emergency responder trying to keep the two drivers away from each other appears to be clipped by the tow truck in additional footage from the incident:
The following week, authorities arrested a competitor by the name of Joe Ryan Osborne for a violent altercation at Bowman Gray. Not all short tempers are the good kind, but the good kinds sure are good.

G/O Media may get a commission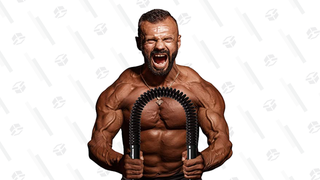 10% off
Zenooze Boa Power Twister
[Correction: the Bowman-Gray website originally made these videos look like they were of the same incident, however, the bottom one was from June 11, and the top one was from July 23. H/T Chris!]