Canada's CBC News reports that drivers at a recycling center in Calgary, Alberta "can't seem to stop hitting a giant rock in a suburban parking lot, despite it being an inanimate object surrounded by yellow-painted curbs." This damn rock. Who saw it there, anyway? It came out of nowhere.
You might be asking yourself why is there a giant rock in this parking lot in the first place? That's a good question. Metro News reports that there didn't used to be a rock in between these yellow-painted curbs, and drivers used to get stuck in the unfilled median. So the Sage Hill Bottle Depot recycling center put something there to stop people from driving over the curb: a big obstacle.
That was last week. Then, the madness started. From Metro News:
The first vehicle to tangle with the rock – and lose – was a black Toyota SUV around lunch on Saturday.

Mark Nguyen was driving into the parking lot with his family when he first saw a police cruiser and the flipped SUV. He snapped a few photos and posted them to Sage Hill Chat – a Facebook group for local residents.

Brangwyn Jones, another Sage Hill resident and administrator of the Facebook group, said the rock became a local celebrity after that, as more photos of the other cars found their way online.
At least three cars lost their battles with the rock, according to CBC News, with photos of vehicles beached on the rock and turned over next to the rock winding up on the local Facebook group. The story said there have been no reported injuries in the wrecks, and that the rock has now become a local icon in this weird, weird internet age we live in. From CBC News:

When the community learned Monday the rock is to be removed, many on the Facebook group were upset at the loss.

"No! Leave it!," one person posted. "It's far too entertaining!"

"Poor misunderstood rock," added another.

Jones said the rock "has become a part of us."
The rock even became a collection site for the local food bank, with CBC News publishing a photo of it wrapped in multicolored Christmas lights next to a collection box. Residents began using the hashtag #savetherock on Facebook for the purposes of, well, saving the rock:
G/O Media may get a commission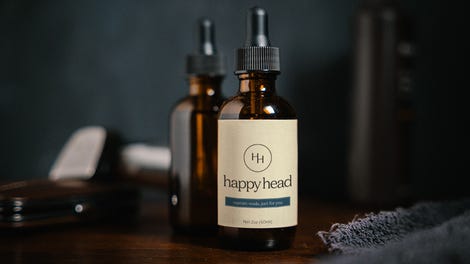 Others were sad to see that the rock may be leaving "just as it was getting the recognition it deserved," according to Metro News, and one resident even wrote a haiku for it. With all of the new attention, Metro News reported as of Monday that Sage Hill Bottle Depot manager Nicole Dunai is attempting to get the rock moved in front of the building so that it'll "still be a part of the community" but perhaps not destroy all of the community's cars.