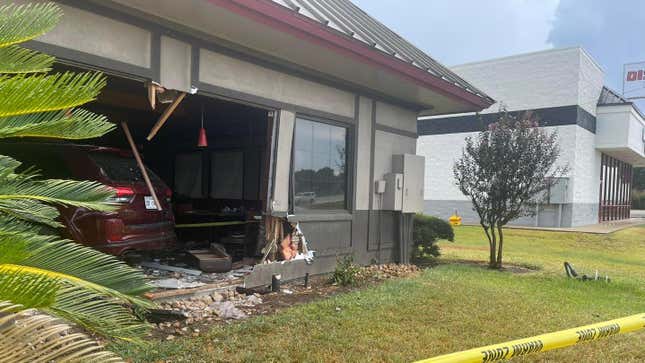 Yesterday, a Jeep driver in Rosenberg, TX, plowed through the wall of a Denny's restaurant at 11:22 a.m., injuring 23 people. Victims ranged in age from 12 to 70 years old, but thankfully, it sounds like no life-threatening injuries have been reported, per NBC.
Honda's Motocompacto Is The Ultra Portable E-Scooter That Can Fit Just About Anywhere
The driver of the Jeep is allegedly unhurt, and the cause of the crash is currently unknown. Video from the aftermath of the crash was aired on local news station KHOU 11, which shows the Jeep almost entirely inside of the restaurant:
One bystander in the restaurant said that "it sounded like a bomb had exploded," as per Click2Houston, while another patron said she "could see like dust of glass, dishes flying, people being shoved by the car and then it went... it stopped."
The driver of the Jeep has not been arrested, but police say that could change as a result of the ongoing investigation. The driver, reported to be in his 30s, was seen being given a sobriety test at the Denny's.
One of those injured, Roy Rodriguez, told KHOU 11 that "We'd just about finished eating and were drinking coffee and then all of a sudden, it come a storm. There was blood all over the place."
Injuries range from some cuts to broken bones, but all victims were conscious upon arriving to a local hospital.