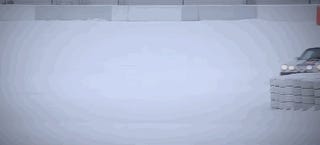 Here's Patrick Simon driving the Rothmans Porsche 911 SCRS at the snowy Grand-Prix circuit of the Nürburgring. The lucky bastard.
While you can build any race car you want, or even buy a street car with a drift function these days, nothing will be more fun than driving a rear-wheel drive car with a locking differential in snow. Up until a certain hight, that is.
Things get even more interesting when you have a screaming flat-six at the back putting most of the weight behind the rear axle, wrapped in a lightweight body and the most iconic Porsche livery of all time. The Rothmans blue-white-red goes perfectly with the frozen Nürburgring, wouldn't you agree?
One more thing on my bucket list. It's getting too long.
---
Contact the author at mate@jalopnik.com.