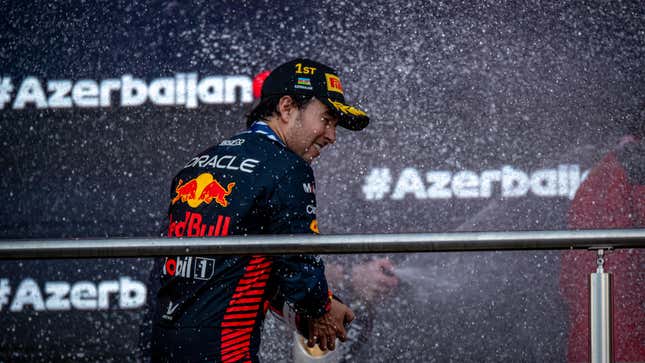 Sergio Pérez is the other Red Bull driver in Formula 1, a very good driver with lots of experience and wins under his belt, but expected to play second fiddle to Max Verstappen, who has won the last two Formula 1 World Championships. Pérez is supposed to be a good teammate, and boost Verstappen's quest for a third in a row, which started looking inevitable from the moment Verstappen won pole in Bahrain. The only problem is that Pérez won the next race in Saudi Arabia, and Sunday's grand prix in Azerbaijan, too, now trailing Verstappen by just six points in the drivers' championship standings. Don't look now, but Pérez might just fuck around and win it all.
"It's been a weekend where the pressure has been on," Pérez said in postrace comments. "I can only think back to the problems we had in Melbourne. I think without those we should probably be leading the championship."
Then, an interviewer asked him if he is still in the championship fight.
"I am," Pérez said. "I am. I've been saying for a while, but I think the best way to speak is on track."
Verstappen, for his part, said after the race that the two "push each other," and the two seem respectful of each other enough, and this isn't quite Nico Rosberg-Lewis Hamilton levels of teammate mutual hatred. But we can still hope it might get there, and, indeed, the competition between Verstappen and Pérez for the title is, so far, the most intriguing thread this year.
Mercedes boss Toto Wolff might certainly agree, as he called the race in Azerbaijan "boring," which it was if you weren't dreaming of Pérez winning an F1 title. It was also boring from Wolff's perspective, because neither Lewis Hamilton nor George Russell did much, finishing sixth and eighth, respectively. More exciting for Mercedes was after the race ended, when Verstappen yelled at Russell.
Elsewhere, a minor controversy involving Esteban Ocon and pit lane drew some eyeballs, but, beyond that, there was precious little in the way of intrigue in Azerbaijan. Sergio Pérez would take another 19 races just like it. Pérez is currently about three-to-one to win the Drivers' Championship, with Verstappen about one-to-two to win; Charles Leclerc is a distant third in the odds, at 14-to-1, and Fernando Alonso is 18-to-1.
That's according to gamblers, at least, though the odds also feel about right. Four races in, Pérez must be liking his odds better and better.