Good Morning! Welcome to The Morning Shift, your roundup of the auto news you crave, all in one place every weekday morning. Here are the important stories you need to know.
1st Gear: We're Gonna Keep The Fords Here And They're Gonna Be The Biggest, Most Beautiful Fords You've Ever Seen
A night after the raucous GOP debate in Michigan, inexplicable frontrunner Donald Trump was stumping at the Sports and Expo Center in Warren. He promised once again to go after Ford hard for its plans to relocate much of its car production to Mexico if, I mean when, he is elected president. Via The Detroit Free Press:
In a speech full of references to Michigan's dominant auto industry and the threats posed by foreign competition and outsourcing, Trump whipped up the crowd at the college Sports and Expo Center in Warren, saying he was "100% sure" a Trump presidency would keep Ford Motor Co. from opening any future plant in Mexico. And he suggested that was just the start for his negotiating better business deals in the U.S. and around the globe to create and save jobs.

"We are going to do something that is going to (be) great (and) a very big beneficiary is going to be Michigan," Trump said, to a cheering crowd. "The car business is being abused more than most other businesses. ... Mexico is becoming the new China.

[...] Trump also repeated, at length, his claim that he would stop Ford from building in Mexico, saying if elected president he would threaten the company and any other automaker who does so with a 35% tariff on any products or parts imported into the U.S.
G/O Media may get a commission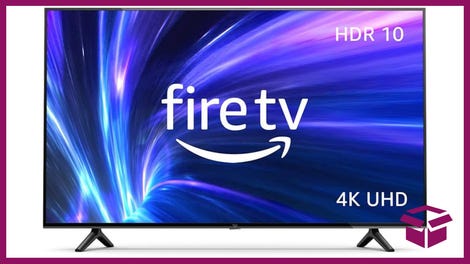 42% Off
Amazon Fire TV 50" 4K Smart TV
However!
However, the president has no such unilateral power and critics say such a move, even if authorized by Congress, could touch off a trade war.
Welcome to post-fact America.
2nd Gear: Clinton, Sanders Spar Over Bailouts
Meanwhile, on the Democratic side of things, the auto bailouts came up again at last night's CNN debate ahead of this week's Michigan primary. Hillary Clinton was in favor of it; despite her characterizations, the Washington Post reports that Sen. Bernie Sanders was too, but he was against the larger bailout of the banks.
Via Bloomberg:
Clinton said in Sunday's CNN presidential debate that Michigan's two senators supported the rescue plan in January, 2009, and "I went with them, and I went with Barack Obama, and you did not, and if everyone had voted the way he did, I believe the auto industry would have collapsed, taking four million jobs with it."

Their sparring about taxpayer bailouts after the 2008 financial collapse grew so heated that at one point Sanders waved his hand and raised his voice at Clinton, insisting, "Excuse me, I'm talking."

"If you're gonna talk, tell the whole story," Clinton shot back.
Glad things are staying civil all around.
3rd Gear: BMW's Challenges At 100
As BMW celebrates its 100th birthday today, the brand famous for driver's cars faces many battles, from competing with giants like Mercedes to troubles in China and a shift to autonomous vehicles that seems to throw everything about the "Ultimate Driving Machine" out the window.
Automotive News has a very good rundown of where the company's at in 2016, and the whole thing is worth a read. Some highlights:
The latest trend costing BMW is finding a way to give a precious commodity — time — back to customers through connectivity solutions and autonomous driving. Mercedes already is debuting in the new E class a technology that allows vehicles to talk to other vehicles and their surrounding infrastructure.

Eventually, a BMW will be able to crunch traffic data, warm up the interior and drive in autopilot mode from its parking spot three blocks away to pick up a customer at the door. And it will arrive 15 minutes earlier if congestion is bad.

Owning a car may no longer even be necessary. Fully autonomous capabilities could feature heavily in a new vehicle the carmaker has confirmed is in the works, often referred to as the i5, under development by its so-called "innovation" subbrand, or "i" for short.

Yet here BMW has two new competitors in Google and Apple that are attracted by the estimated 25 gigabytes of valuable data a connected car can generate every hour. Both Google and Apple are believed to be developing their own models even as they partner with manufacturers to bring their smartphone interfaces Apple CarPlay and Android Auto into a wide range of vehicles.
4th Gear: Fleet Sales!
Amid another strong sales month in February, General Motors cut back on fleet sales as Ford, Fiat Chrysler and Nissan ramped them up. A breakdown by Automotive News:
Fleet sales took on a negative connotation in years past when the Detroit 3 used bulk sales as a convenient way to unload excess inventory, often at a loss. Since the recession, analysts say, fleet sales generally have been less abused, but February was the industry's most fleet-heavy month in almost six years.

[...] Fleet accounted for 21 percent of GM's sales, down from 27 percent a year ago. It was 31 percent of FCA's sales, the most in three years. And at Nissan, whose retail sales were flat in February, fleet was 28 percent of sales, the highest since 2010, when Automotive Newsbegan keeping records of those sales.
5th Gear: Someone Trusts VW
And that someone is the German government, which has historically had a cozy relationship with the scandal-rocked automaker. Do they trust VW will find a way to fix this mess? Via Reuters:
"We trust that the company is leaving no stone unturned," Tanja Alemany Sanchez de León told a government news conference on Monday.
A vote of confidence!
Reverse: Janet Guthrie!

Neutral: Who's The Most Full Of Shit On Auto Issues?
Gonna go with Trump here, but it's kind of amazing the auto bailouts keep coming up as an issue seven years later.
This story has been updated to clarify Sanders' stance on the auto bailout.
---
Contact the author at patrick@jalopnik.com.