The true definition of "sport utility" is really a hot rod wagon, and when it comes to wagons it just doesn't get any hot roddier than today's Nice Price or Crack Pipe Bimmer. Let's see if its price gets you all hot and bothered.
I was surprised to note at the recent Best of France and Italy Car Show here in L.A. that while there were more than 400 cars present—including an esplanade of Espadas and a freaking Lancia Thesis—there were only three Maseratis representing. Those three consisted of a Bora, an Indy and a somewhat sad sack '80s Quattroporte.
Yesterday's 2005 Maserati Quattroporte would have been a welcome addition to the show, and a rather unique attendee as well, owing to its one of 60 Neiman Marcus catalog pedigree. That fact and its depreciation-driven $13,999 price wasn't lost on you all, and the car managed a solid 60 percent Nice Price win despite having a poorly conceived, frustrating to use and potentially wallet-draining to repair gearbox.
Of course no car is perfect. Hell, nothing is. Still, we always strive to reach that nirvana, especially when it comes to our motoring experience. It's quite possible that this 2001 BMW E46 Touring will be for many as close as we can come.
G/O Media may get a commission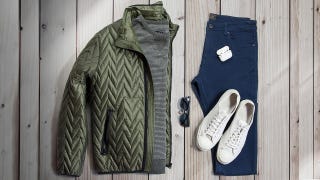 60% off
Jachs NY Fall Sale 60% Off
Let's just look at the facts before we get into the execution. The E46 Touring was the first 3-series wagon that BMW let loose on the American market and is arguably their best looking longroof in the line to date. While its utility exceeded that of its coupe and saloon brothers and sisters, the E46 Touring never was imbued by the factory with the same performance bonafides. This custom edition seeks to rectify that situation.
It does so by raiding the corporate parts bin and it's rather remarkable how many BMW models and categories are represented here. Let's start with the mill. That's an S54B32 DOHC inline six, liberated from a 2004 M3. The ad notes that while in its original home, the S54 experienced a failure of the VANOS cam control which resulted in several bent valve stems. Following the cam-tastrophe, the engine was yanked, beheaded and reheaded and fitted with new bearings on the bottom end. That all occurred at 80K, and the rebuild has about 8K on the clock since.
It's also been moved to a new home, this former 325iX Touring. The iX's drivetrain has been gone through as well. A six speed Getrag manual out of a 330i takes the S54's 333 horses and sends them to the front and rear wheels by way of upgraded X3 diffs. A 330iX oil pan on the S54 makes room for the front angle and dangle. A new clutch sits in between engine and gearbox, and a weighted shifter helps with the rowing. Coilovers and a camber kit help drop the suspension and fill the aggressively flared wheel arches. Under those sit a CSL brake kit adding big clampers to the car. The list of upgrades and reconfigurations is too long to go into here. Check out the ad if you want the deets.
Aesthetically, the car seems in top notch shape. The Orient Blue over beige leather combo is appealing, and seems clean, as do the aftermarket Apex wheels. Apparently an additional set of wheels with winter tires is included for all your snow business.
The screwed-on flares give the car a bad-ass bent, but may be not to everyone's liking. I happen to think they were a smart move and announce the performance bits beneath with subtlety. An M3 front valance ties the front flares together nicely.
The interior seems serviceable and features the factory sport seats and a dash of M touches here and there. It does all seem to need a good scrubbing, or maybe it's just the lighting in the photos. Over all it's probably an 8 out of 10.
Let's talk a bit about some other numbers—the mileage of the major parts to be exact. I noted earlier that the engine has about 88K on it in total, 8K of that since a major rebuild. The six-speed stick came out of a car with 60K on the clock, which isn't all that much. The winner here however, is the car itself which has a remarkable 280K on it. I don't know if Elon Musk shot this one into space and brought it back, but that's about as likely as it looking this good after all those miles.
Of course, the whole car didn't do those miles, but a lot of important bits did, and it looks ship shape despite that. The seller says that its temperament doesn't exactly reflect its appearance and recommends being purchased by someone who knows what they're getting themselves into, going as far to note in the ad "This is a swapped vehicle, it will require a higher degree of knowledge and skill to maintain, but it is worth the reward."
What does that reward cost? How about $26,500? That's a lot of beans, but remember that this is a lot of Bimmer, or Bimmers as it were. What do you think, could this heavily modded and flared Touring pull that much from the "right buyer?" Or is this Frankenthree too much in price and execution?
You decide!

Denver, CO Craigslist, or go here if the ad disappears.
H/T to Shef AND devenL for the hookup!
Help me out with NPOCP. Hit me up at rob@jalopnik.com and send me a fixed-price tip. Remember to include your Kinja handle.