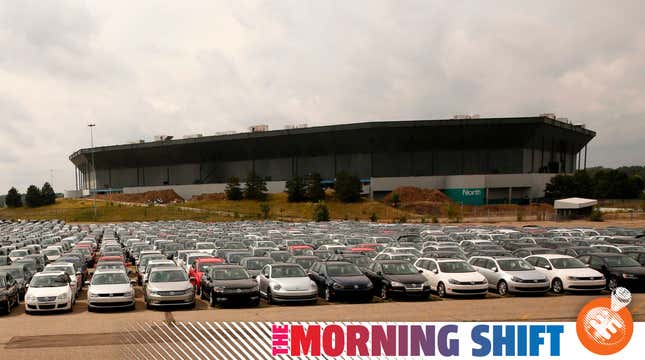 Dieselgate is closer to being done and dusted, McLaren has a certified pre-owned program, and Nikola fires back at a short seller. All that and more in The Morning Shift for September 14, 2020.

1st Gear: Daimler, The US And California To Announce Dieselgate Settlement
The terms of the $1.5 billion settlement will be disclosed today, according to Reuters. The settlement had been reported last month.
The U.S. Justice Department, Environmental Protection Agency and California Air Resources Board (CARB) will unveil details of the settlements Monday that will require Daimler to address the vehicles' excess emissions as part of binding consent decrees that must be approved by a U.S. judge.

The settlement includes one of the highest civil penalties ever levied under the Clean Air Act, sources said, and will label Daimler's diesel software "defeat devices" used to evade emissions tests.

It will also include a separate Customs and Border Protection civil penalty to resolve allegations of illegally importing noncompliant vehicles.

Daimler and the EPA declined to comment, but the automaker said last month the proposed settlements are an "important step towards legal certainty" in the U.S. states.
2nd Gear: Volkswagen Thinks It Has Turned The Page
The company most associated with Dieselgate thinks it's moving further and further away from it after five years in the hot seat. Automotive News took stock of the whole situation this weekend, recapping what a long, strange trip it's been.
"It's heading in the right direction," [Volkswagen of America CEO Scott Keogh] told Automotive News last month. "But if I look at demand for our products, our sales and where we're heading, the market is heading in a positive direction for us. But we've got to earn it."

Keogh, 51, was named CEO in 2018 after more than a dozen years with sibling brand Audi. As the first American to helm the brand in North America in more than 25 years, Keogh's appointment — and the creation of a semiautonomous North American region — gave VW dealers hope for a stable hand on the rudder who would look out for their interests and guide them safely past the emissions scandal.

"I cannot say enough incredible things about the Volkswagen dealer network, and how they managed and handled [the buybacks] and stayed committed to the brand and dedicated to the brand," Keogh said.

Volkswagen today is not the same company it was even five years ago, Keogh argues. Not even close.

"As someone who's navigated the culture of this company for about 15 years, it's just a different culture now, dramatically more open and one where anyone can speak up and express your point.

"It's far less hierarchical. It's transformed," he said. And with the diesel emissions scandal behind it, Volkswagen also is a company "on a mission" to make electric vehicles affordable and attainable for average consumers, Keogh said.
Introducing the ID.4 here seems like VW's way of actually putting Dieselgate definitively behind it, which puts even more expectations on the ID.4. Still, I'll be surprised if the ID.4 is a giant success here, as all signs instead point toward it being a fairly mild one.
3rd Gear: Nikola Fires Back
The truck startup has been the target of an attack from the short-seller Hindenburg Research, which calls Nikola an "intricate fraud" and which has got Nikola's founder extremely mad online. This morning, Nikola issued a press release attempting to refute a lot of Hindenburg's allegations.
You can read the whole thing here if you are so inclined but here are a few of the more notable points:
Hindenburg seeks to portray Nikola as misrepresenting the capabilities of the Nikola One prototype in a 2017 video produced by a third party, as "simply filmed rolling down a big hill." Nikola never stated its truck was driving under its own propulsion in the video, although the truck was designed to do just that (as described in previous point). The truck was showcased and filmed by a third party for a commercial. Nikola described this third-party video on the Company's social media as "In Motion." It was never described as "under its own propulsion" or "powertrain driven."
Technically true! That's why car startups post videos of their prototypes coasting down hills all the time. (They don't, to be clear, this is a joke.)
Short Seller Alleges that 2016 Nikola One "was not a real truck and was, in fact, a pusher": The Nikola One is a real truck that sits in Nikola's showroom. A pusher means a vehicle that was not designed to be moved by its own propulsion system. The Nikola One was, in fact, designed to be powered and driven by its own propulsion.

Here are the facts:

Gearbox was functional and bench tested prior to installation.
Batteries were functional.
Inverters functioned and powered the motors on a bench test prior to the show.
Power steering, Suspension, Infotainment, Air Disc Brakes, High Voltage, and Air Systems were all functional.

As Nikola pivoted to the next generation of trucks, it ultimately decided not to invest additional resources into completing the process to make the Nikola One drive on its own propulsion. After pivoting, Nikola produced prototypes for the Nikola Two, which are self-propelled and have been frequently demonstrated, beginning with demonstration runs at Nikola World in April 2019.

The Nikola One was an incredibly successful proof of concept, and everything the Company learned from that experience has underpinned the successful development of its next generation of trucks that can be seen driven here.
Ah, so the Bloomberg report that Nikola founder Trevor Milton got so mad about in June was essentially correct. Got it.
In its report, Hindenburg misrepresents that Nikola is claiming a third-party inverter is the Company's own technology by placing a sticker over the supplier's name. At no time did Nikola state that the inverter on the prototype truck shown in the video was the Company's or would be used in production. Nikola has been designing, engineering and working on its own inverters for quite some time. The Company does use third-party parts in prototype vehicles, some of which may be subsequently swapped out for its own parts in production. This is common practice among vehicle manufacturers and Nikola often blocks supplier names from the view of media and competitors. Every program is different as they require different specifications and validation.
This, like a lot of Nikola's press release, sounds more like an admission than a refutation. But whatever! None of this shit really matters! I continue to wish that car startups focus on, you know, building cars and sustainable businesses rather than waging PR wars. Doth protest too much, etc.
4th Gear: McLaren Has Renamed Its Certified Pre-Owned Brand
It will be called "McLaren Certified Pre-Owned." It used to be called "McLaren Qualified." I didn't even know McLaren had a certified pre-owned program until I came across this news item this morning. This is probably because I will never be in the market for a certified pre-owned McLaren.
Via Automotive News:
Through August, McLaren said it sold 580 certified pre-owned vehicles in North America this year, an 11 percent jump over the same period in 2019. U.S. certified pre-owned sales tallied 530 while 50 sales were from Canada. McLaren has 25 U.S. dealerships and three in Canada.

A vehicle has to pass a multipoint inspection from a McLaren trained technician to become certified. Certified vehicles undergo all servicing and maintenance due within three months of a sale and only have genuine McLaren parts, the automaker said.

Certified pre-owned models come with a minimum one-year warranty, which covers the cost of parts and labor for eligible repairs completed at a McLaren service center.
5th Gear: GM Is Fucking With A Small GM Dealer Because GM
The dealer in question is KAR Auto Group, which is located in rural Iowa and which moved its Chrysler, Dodge, Jeep, and Ram dealership into its Chevy and Cadillac dealership this year. The two dealerships had previously existed 180 feet apart in separate facilities, according to Automotive News, and GM is mad that they are now sharing showrooms.
The dealership and GM are now haggling in court.
A federal judge last month denied GM's request for a preliminary injunction against KAR Auto Group of Decorah.

[...]

GM says a dual showroom violates the dealership group's franchise agreement, but KAR argues that a 2010 Iowa law gives it "an unfettered right" to consolidate the stores' operations and that at least 32 other GM stores in Iowa were dualed with other brands when it made the change.

U.S. District Judge C.J. Williams said GM didn't show danger of "irreparable harm" if the competing brands continue in the same building.

"KAR is pleased with these results and in particular the broader effect the decisions will have with respect to dualing in Iowa and on the viability of a trademark claim that a manufacturer may bring in response to dualing," KAR's lawyers said in a statement. "A trial on the merits will follow."

GM told Automotive News that KAR's agreement with GM requires it to meet standards including a minimum amount of space dedicated to Chevy and Cadillac.

"GM's standards — comparable to those of other manufacturers — are designed to enable efficient dealership operations, and positive customer experience and brand image," GM spokesman David Caldwell said in a statement. "We will continue our efforts to enforce the contract."
What's remarkable is how low-stakes this is, though I'm sure GM would argue that it's more about precedent.
Decorah is a town of fewer than 8,000 residents in northeastern Iowa. Since 2014, Decorah Chevrolet-Cadillac has sold an average of seven to 12 new vehicles each month, KAR said in its filing.

Because of declining sales and steady losses of $30,000 to $50,000 per month at its adjacent FCA dealership, the group decided to consolidate the two stores to ensure they were sustainable.

The FCA dealership lost $588,011 in 2019, and KAR estimated that dualing the stores would save about $575,000 annually.
Reverse: To The Moon
Neutral: How Are You?
Thanks to a weekend grocery run I now have lox and bagels for days.