The elusive BMW V6 engine: it's not just for confused people trying to unload a 3-Series on Craigslist! Yes, while the Bavarian brand is famous for their inline-six engines, it turns out they do build V6s quite a bit.
I wasn't aware of that fact, but it was brought to my attention in Jason Cammisa's excellent new column in Road & Track, where he singles out how great the straight six is.
You won't find me disagreeing with that. I love inline-sixes for their smoothness, their sound, and increasingly their novelty in the automotive landscape as everyone moves to more "packaging-friendly" V6 configurations.
Cammisa's column points out why V6s are also problematic, but it contains this interesting tidbit:
At the moment, BMW remains the sole champion of the straight-six. Munich engineers admit that they regularly develop and test prototype V-6s, per internal policy, but say the results don't come close to meeting company noise and harshness standards. Mercedes-Benz must not have such stringent benchmarks. Once renowned for its silken inline-sixes, Stuttgart phased out those engines and began building V-6s out of its V-8s during the dark, cost-cutting days of the marque's DaimlerChrysler ownership.
G/O Media may get a commission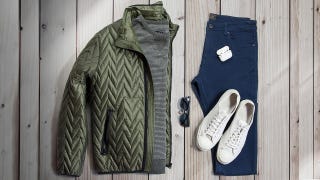 60% off
Jachs NY Fall Sale 60% Off
Did you hear that? BMW makes V6 prototypes all the time, they just never work out for what the company wants in terms of noise and harshness. (I'd argue the former is an odd request since so many modern BMWs depend on fake engine noise, but whatever.)
Maybe it's not entirely surprising. A lot of people thought the M3 and M4 prototypes were running around with V6 engines under their hoods, and for all we know they were. The company was heavily rumored to be going with that configuration for some time. I'm glad BMW stuck with the straight six, for tradition if nothing else.
But hey, maybe the inline-six is coming back. Mercedes is said to be working on a new family of modular engines that include straight sixes, just like their cars used to have. And as more engines move to that handy modular setup, maybe it will make sense for automakers to develop inline three, four, five and even six-cylinder motors.
The inline-six may be down, but it's not out yet.