While the original idea of a turbine-powered hybrid supercar was a bit insane, Jaguar's now twin-charged four-cylinder C-X75 with the Williams hybrid system is a finished car and I couldn't figure out why it wasn't for sale. And now I think I know, and you can blame the Nano.
There has never been a better moment for building limited production, $1 million+ cars. Pagani, Koenigsegg and Bugatti are doing just fine, while the LaFerrari and the McLaren P1 were basically sold out before they opened the books. And yes, Jaguar's last supercar, the XJ220 was a failure due to bad timing and engine-downsizing, but the C-X75 would be a very different story. It's got the performance, the looks, and it's more advanced than even a P1:
"The performance of a Veyron, the range of a Volt, and the CO2 of a Prius." Sounds like a dream, doesn't it?
This left me wondering why they can't build it. Will that engine blow up after 5000 miles? Is it too expensive to build? Are they afraid there wouldn't be enough interest in such a Jaaag? A quick peek into the numbers reveals another, more interesting possibility:
Jaguar's parent company "Tata's fourth quarter net income plummeted 37 percent to $703 million" according to the International Business Times. Meanwhile, "Jaguar Land Rover luxury unit reported net profit of $570 million." Meaning that even though the British are strong enough to finance a project like the C-X75, Tata's sales back in India binned this magnificent engineering achievement by Jaguar and Williams.
G/O Media may get a commission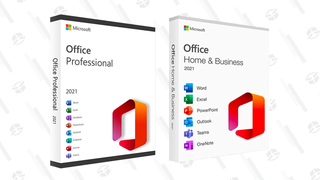 89% off
Microsoft Office Professional 2021 Lifetime License
The colony strikes back.
C'mon Indian friends, start buying those damn Nanos!
Photo credit: jaguarcarsmena