"Cannon Ball" Baker
We've been on the phone all morning sorting out the veracity of Collins and Rawlings' stab at the Cannonball Baker Sea-to-Shining-Sea Memorial Trophy Dash Record. And frankly, it seems pretty legit to us. Collins and Rawlings are notably two of the fiercest competitors on the rallying scene. But there is another record, of thirty-two hours, seven minutes. While it seems as though Collins and Rawlings have legitimately smashed the Cannonball record of 32:51, the 32:07 record set by David Diem and Doug Turner during the 1983 running of the US Express (a successor race set up after Brock Yates shut down the Cannonball) hasn't exactly fallen. Why? Hit the jump for our reasoning, as well as the second part of Jay Riecke's challenge to the Transcontinental Texans.
The Dave Heinz/Dave Yarborough Jaguar XJ-S that set the 1979 race didn't leave from Manhattan, as previous Cannonballs (and the later US Express did); rather, (as commenter PatFromGundo noted) the Cannonballers departed from Darien, Connecticut. Factoring in getting out of Manhattan, we estimate a 25 minute penalty leaving Darien. Spinelli asserts it could be as tight as 15 minutes, but given the vagaries of traffic that particular morning, our NYC-area contingent is pretty comfortable with the 25 minute penalty. Which means that what Rawlings and Collins were actually dealing with was the 35:53 mark, set in 1975 by Rick Cline and Jack May in a Dino.
If the verification pans out, and according to Bullrun organizer Andy Duncan, it definitely will, Rawlings and Collins have definitely obliterated the Manhattan-to-Redondo run, and they likely outpaced Heinz and Yarborough. But there's a catch. The 1983 running of the US Express was run from Manhattan to Newport Beach, which is a longer distance than the shot to Redondo. The 10 Freeway is the main conduit from the east into Los Angeles. We're assuming that Rawlings and Collins cut across on the 10 and then took the 405 down to Redondo and then cut across to the Portofino, which is right off of PCH. In fact, pretty much any sensible route to Redondo includes the 405, even if it is a nightmarish road. From what we've been able to gather, it looks as if Rawlings and Collins ran just about 2,800 miles, vs. Heinz/Yarborough's 2855 miles.
Meanwhile, the route that Diem and Turner took in '83 spanned 2871.7. That gives Collins roughly 70-80 miles to cover in the space of eight minutes to equal the US Express record. The last time we checked, not even a V-12 Fezza with two seasoned drivers (as Rawlings and Collins are) could pull that off. The 550 Maranello has a top speed of 199mph. Which means — completely maxed out — they only could have covered about 26 miles in those eight minutes.
On the other hand, Rawlings and Collins now have the Ferrari loaded on a transporter headed for Miami in an attempt to cash in Riecke's chips. They now have to beat his RennTech 600CL. Jay and his co-pilot Byron were the second runner-up in last year's "Always First" awards, and the dudes are fast. We'll keep you posted.
G/O Media may get a commission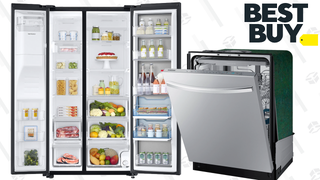 Up to 50% off
Best Buy - Samsung Major Appliance Sale
Related:
Texas Duo Claims to Have Broken 1979 Cannonball NYC to LA Run [Internal]