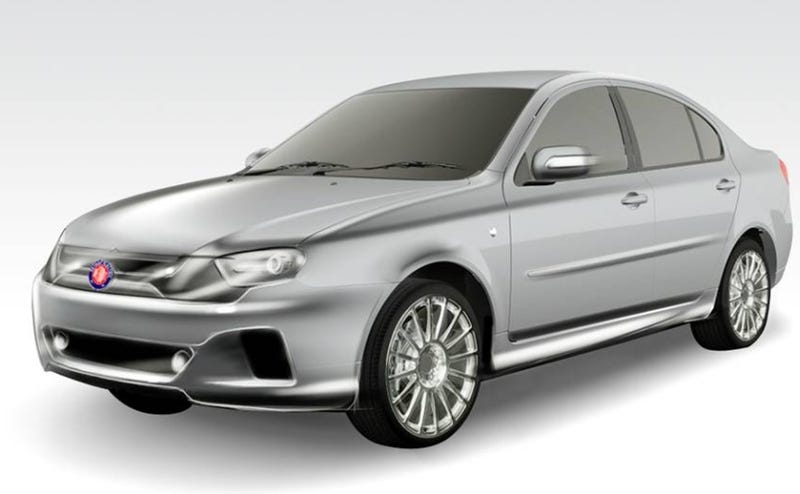 Detroit Electric closed up shop in 1939, but Zap Electric and China Youngman Automobile Group resurrected the nameplate in 2007 and are planning to bring two practical, Proton-based electric cars to the market next year.
The announcement brings another player to the real-world EV market, radically undercutting the current more expensive future headliners from Fisker and Tesla. The Detroit Electric E46 is planned as compact five door hatchback and the Detroit Electric E63 is a traditional sedan, priced between $23,000 and $33,000. Each car is targeted at 8 second 0-60 times and a 112 MPH top speed. Production is slated to begin as early as 2010 for European and Chinese sales and 2011 for the US. Volume goals are lofty, with targetr
The two new cars would be produced by Proton in India and modified for European, US and Chinese regulations by Detroit Electric. The cars will come with Detroit Electric's proprietary lithium polymer battery and Magnetic Flux Motor in two different range configurations: a 111-mile range range for the city and and an extended 200-mile range for those willing to pay for the higher price tag.
A Sino-American-backed, Malaysian-designed car wearing the Detroit Electric brand name seems like the ultimate expression of irony.
DETROIT ELECTRIC AND PROTON ANNOUNCE STRATEGIC PARTNERSHIP TO PRODUCE AFFORDABLE AND PRACTICAL PURE ELECTRIC VEHICLES
Detroit Electric to produce and market full line of innovative Pure Electric vehicles in US, UK, EU and China beginning 2010

KUALA LUMPUR, March 30, 2009: Detroit Electric Holdings Ltd and PROTON Holdings Berhad today announced a strategic partnership to mass produce Pure Electric Vehicles. Detroit Electric will integrate its patented electric drive systems into the vehicles.

Under the agreement, Detroit Electric will license two Proton vehicle platforms and contract the company to assemble the electric vehicles that will be marketed under Detroit Electric's brand.

This agreement will provide Detroit Electric with its first manufacturing base. The announcement came at a signing ceremony officiated by Malaysian Prime Minister Datuk Seri Abdullah Ahmad Badawi.

"Today's agreement with Proton will put Detroit Electric on the fast track to bring a full line of innovative, practical and affordable pure electric vehicles to the global market," said Albert Lam, Detroit Electric's Chairman and Chief Executive Officer. "We chose Proton due to its state-of-the-art production facility, commitment to research and development, cost efficiency, and stable, high-quality workforce."

By 2012, Detroit Electric plans to sell more than 270,000 Pure Electric Vehicles in Europe, UK, China and the United States. The vehicles will be priced between USD 23,000 and USD 26,000 for the city range model and between USD 28,000 and USD 33,000 for the extended range model. Styling changes will distinguish Detroit Electric's vehicles from Proton's existing line-up.

The vehicles will be based on Detroit Electric's unique, patented electric drive system that greatly reduces the electric motor's size and weight. The underlying Magnetic Flux Motor Technology and well-proven Lithium Polymer Battery Technology allow pure electric vehicles to achieve a single-charge range of 180km (111 miles) for the city range model and 325km (200 miles) for the extended range model.

Detroit Electric is in the final stage of setting up two subsidiaries: Detroit Electric Energy, which will produce the battery technology, and Detroit Electric Advanced Propulsion Lab, which will manufacture the motor and controller.

The Detroit Electric Advanced Propulsion Lab and Manufacturing Plant is targeted to be in Malaysia close to the vehicle assembly facilities of Proton. By 2012, the two production plants will produce more than 400,000 electric drive systems, creating thousands of jobs and supporting Detroit Electric's internal demands as well as third-party OEM's needs.

Proton, which currently produces a total of 270,000 vehicles of various models in Malaysia, edged out a host of international brands when its popular Persona was named Malaysia's Best Model of the Year in the 2008 Frost & Sullivan ASEAN Automotive Awards. The company is also Malaysia's largest investor in research and development, spending USD 1.2 billion (RM4.6 billion) between 1993 and 2003.

"We are proud to be able to integrate our electric drive systems upon one of the best cars out of Asia. Our customers around the world will enjoy the level of quality and comfort offered by Proton, an award-winning manufacturer," said Lam.

Detroit Electric will be responsible for the homologation of the vehicles and for vehicle certification in the U.S. and European markets, where models are targeted to be sold in the first quarter of 2010 EU, UK, China and closely followed the US. Detroit Electric will assume all warranty and liabilities for the Electric Vehicles, while Proton will warranty the vehicle's build and standard components.

"Our vehicles will be reliable, meet all quality and safety requirements, and quite simply outperform internal combustion engine vehicles of the same class. They will be affordable as we look at the competitive market and come without the polluting carbon emissions," said Lam.

Today's agreement also initiates the test and validation program in which Proton will evaluate Detroit Electric's electric drive system with the intent to license the rights to distribute, market and sell vehicles under the Proton brand in Asia.

Detroit Electric is looking to repeat similar contract production partnerships with manufacturers in Europe and the United States. This will allow the company to extend its range of models very quickly to meet demand in the different automotive segments in these markets.

"When you are trying to redefine the automotive industry, you need to bring many partners along," said Lam. "Our contract manufacturing business model will breathe new life into current manufacturers, leveraging existing unutilized global resources and accelerating the technological advancement of pure electric vehicles."

On the current global downturn in automotive markets, Lam expressed confidence that Pure Electric Vehicles will attract a diverse base of consumers despite the tightening credit market, lowered consumer confidence, unstable oil prices and stricter fuel economy regulations.

"Our target audience are those who purchase practical and affordable vehicles. This makes our products fit the pockets of a very wide audience – from professionals and executives, to mothers, students and small business owners."

-End-

About Detroit Electric:

Detroit Electric Holdings Ltd is one of the leaders of the electric car revolution. We manufacture efficient and environmentally friendly, high performance, long range Pure Electric Vehicles and drive-systems to the global marketplace. Detroit Electric's product plans range from high performance sports cars to stylish sedans capable of driving over 320 km / 200 miles in a single charge.

Detroit Electric Holdings Ltd invented and patented the Magnetic Flux Motor Technology for the motor drive train. The company also owns the intellectual property for the Motor Controller Program. Since its launch, Detroit Electric has been dedicated to developing new technologies and establishing strategic partnerships that leverage existing manufacturing capacities in the marketplace.

About Proton:

PROTON, established in 1983, is Malaysia's largest manufacturer of automobiles. With operations in key market centers from UK and Western Europe to the Middle East, and across South-East Asia and Australasia, PROTON produces cars to suit a range of consumer demands and preferences. The offerings include versatile and reliable four-door family vehicles, two-door hatchbacks for the young-at-heart, luxurious and stylish executive sedans, as well as the world-renowned sports cars from Lotus.

PROTON's inception as a key driver of national development has seen the brand accelerate its learning curve through technology transfer with strategic partnerships and technical collaborations. PROTON cars are now steadily on track to achieving the mission for the future, gearing up to achieve the promise of a marque which build cars with passion and soul; cars which are a delight to drive and a pleasure to own.
[Source: Detroit Electric]