We told you about the LF-A Roadster yesterday, but here it is in all its studio-shot fineness. The full press release follows the jump.


Detroit, USA - The engineers and designers at Lexus continue to use their groundbreaking LF-A premium sports car concept as a medium for expressing their ideas about what a high-performance sporting vehicle not only can be, but should be. In this latest expression of the LF-A, they have removed the car's top to create a high-performance roadster.
The LF-A Roadster is based on the sturdy yet lightweight carbon-fibre and aluminium body used for the LF-A coupe, which helps maintain the structure's strength and rigidity even without a top.
Like its coupe counterpart, the LF-A Roadster is powered by a high-revving V10 engine that approaches 5.0 litres in displacement. The V10, capable of more than 500 horsepower and test-track speeds greater than 200 mph, is mounted in front of the passenger compartment but behind the front-axle centreline in what the LF-A's engineers refer to as a "front-mid" configuration.
G/O Media may get a commission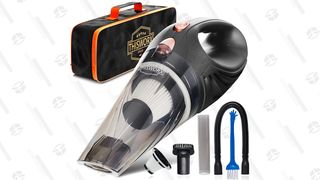 Save 50%
ThisWorx Car Vacuum Cleaner
The engine is connected via a torque tube and propeller shaft to a transaxle that is controlled by paddle shifters. The torque tube is a structural member that adds rigidity to the drivetrain and chassis while also reducing vibration.
Styling is rooted in the Lexus L-Finesse design philosophy, conferring the LF-A Roadster's front end with a compact, low-profile, aerodynamic shape. Like its coupe counterpart, the LF-A Roadster stands just 48 inches tall, but the Roadster configuration adds a speed adaptive rear wing.
The rear is marked by a pair of wrap-around, arrowhead-shaped taillights that bracket a pair of large grilles. These grilles vent the heated air from the car's two rear-mounted radiators into the LF-A Roadster's aerodynamic wake. The radiators are fed cool air by two large intake ducts mounted just above the rear wheel wells. This aft radiator positioning not only allowed the designers to keep the car's front profile low and tight but also aided the LF-A's chassis engineers in their search for optimal weight distribution.
Helping to provide balance and scale to the design, which features an overall length of 175.6 inches and a wheelbase of 102.6 inches, are high-performance tyres on turbine-styled alloy wheels. The front tyres are 265/35R20s, while the rears are 305/30R20s. Like the LF-A coupe, the brakes consist of 14.2-inch cross-drilled, vented discs up front, and 13.6-inch cross-drilled, vented discs at the rear. The front brake callipers are six-piston units and the rear callipers use four pistons each.
Lexus LF-A Roadster Concept Preliminary Specifications
Body Type: Two seat roadster
Powertrain Type: front-mid-engine, rear-mid-transaxle
Engine: V10 (under 5.0-litres)
Transmission: SMT (sequential manual transmission)
Horsepower: more than 500
Top speed: more than 200 mph
Tyre Size Front: 265/35R20
Rear: 305/30R20
Dimensions (inches) Overall length: 175.6
Overall width: 74.6
Overall height: 48.0
Wheelbase: 102.6
ENDS