After reaching a record number of pet deaths in the past five years, Delta will now let you pay them $50 to have your beloved four-legged family member tracked via GPS.
While only six pet deaths have occurred in the last two years, the airline hopes to continue the downward trend by empowering their customers with more data. If you've already ponied up the $200 fee to have your pet checked on a one-way flight, what harm is another 50 bones?
A device created by by Sendum Wireless Corp. will be available from 10 U.S. airports. The device sends real-time data to pet owners air temperature, cage angle, and GPS location information. If the sensor detects a condition beyond a specified threshold it will alert Delta personnel so it can make sure the pet is safe.
Of course there's a catch; the tracking device requires a cellular communications connection to transfer data which, of course, is not available at 38,000 feet. Alerts will only be sent before and after flights, so if fluffy's cage gets knocked over in the cargo hold during takeoff, you'll probably never know, as the kind baggage handler will surely right the pet container as it gets unloaded.
Fortunately, the biggest danger to pets is waiting on the ramp in either extreme hot and cold weather. A kennel that falls or opens inside an aircraft will at least protect your pet from running loose on airport property, such was the case with a highly publicized terrier, Ty, who escaped from his container last October under Delta's watch and ran loose at the Los Angeles International airport never to be seen again.
G/O Media may get a commission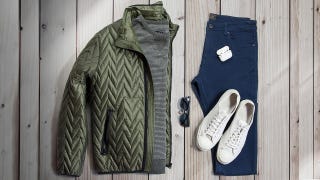 60% off
Jachs NY Fall Sale 60% Off
Airline travel is hard on pets, and the Humane Society recommends to not try it at all and states quite plainly that air travel is not safe for animals. Delta has even placed restrictions on pug nosed dogs and cats that might experience breathing problems in flight.
While airlines currently use a tracking system for all pets, hopefully more specific information will help bring the furry friend fatalities to zero.
Delta has made the service available to customers at their hubs across the United States including New York's LaGuardia, Atlanta, Cincinnati, Detroit, Los Angeles, Memphis, Minneapolis/St. Paul, Seattle, Salt Lake City, and Tampa. The service is not available for pets sent by checked baggage at the passenger terminal.
Photo: AP