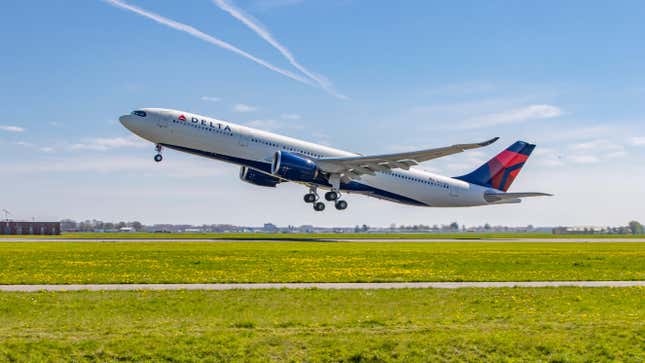 Sustainable aviation fuel (SAF) appears to be the realistic tool for commercial airlines to reach net zero carbon emissions in flight operations, but no major regulator currently allows any aircraft to fly solely on SAF. The Federal Aviation Administration requires fuel mixes to only contain at most 50 percent SAF. Airlines have to resort to other methods such as carbon off-setting to claim to be carbon neutral as a result. And a few airlines might be stretching their claims to carbon neutrality to the limit.
Delta Air Lines is currently facing legal action in a class-action lawsuit about the environmental claims made to customers in advertisements, airport signage, and napkins which claims the carrier has been carbon neutral since March 2020. Slate has a report on the claims made by Delta and other airlines:
Funny thing about those napkins, though. They're actually evidence in a class-action lawsuit that was filed in California on Tuesday, taking Delta to task for "grossly misrepresenting the total environmental impact of its business operations" by "misstat[ing] the actual carbon reduction produced by their carbon offset portfolio"—thanks to offset transactions that are "replete" with "inaccurate accounting," "non-immediate speculative emissions reductions," and "impermanent projects." The plaintiff is a TV writer who says Delta's "carbon-neutral" signposting misled her and that "she would not have purchased said flights on the same terms had they known those representations were not true."
Dutch airline KLM was also mentioned for misleading customers that their flight would have zero carbon emissions. Airlines and other companies have been using similar claims to make people feel comfortable about making carbon-intensive purchases. You can read the entire piece on the topic from Slate here.