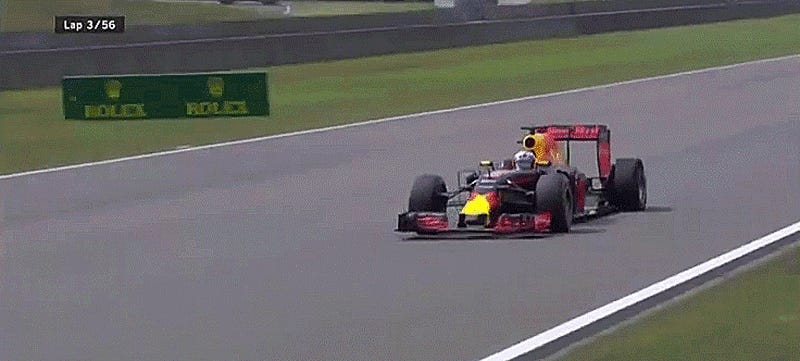 Perhaps Formula One should have yellow-flagged the race immediately after that huge melee at the start of the race. Red Bull Racing driver Daniel Ricciardo was leading—something that hasn't happened in a very long time in a Red Bull—early in the race until a popped tire handed the lead back to Nico Rosberg.
A puncture caused by debris brought on a catastrophic tire failure for Ricciardo on lap 3, which flinged the tire up into the air. Shortly afterwards on lap 4, the race went to a full-course yellow in order for crews to (finally) clean up the mess from Lap 1.
Many teams sent their drivers into the pits during the safety car period in order to get tire changes over with while race traffic was going as slow as possible.

Ricciardo dropped to 17th place after coming in for a new tire, however, he has managed to claw his way back up to 4th by lap 34. This race is a riot.

That being said, Ferrari driver Sebastian Vettel appears to be using "drop bits of carbon fiber on the track" as a defensive strategy throughout this race. After scrapping with Williams' Valtteri Bottas, Vettel's wing looks like it's seen one too many Gatherings of the Juggalos. This is your front wing on meth. It leaves a trail of broken parts, too.

Just like Mario Kart. The Chinese Grand Prix, brought to you by Nintendo.

Meanwhile, Nico Rosberg has run away from all of the fun, putting a gap of over 27 seconds on second place contender Kvyat by lap 34. Hilariously, there's not much time to pay attention to the very front of this race because everything else is too crazy.