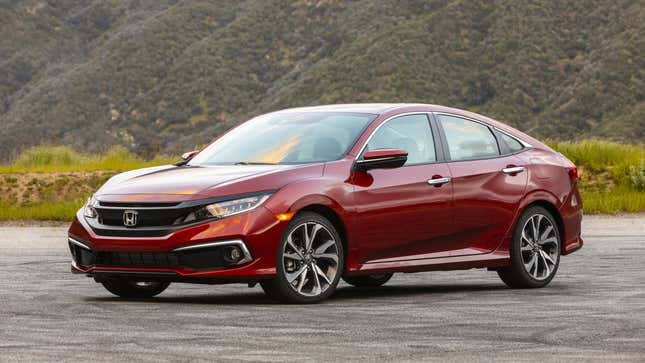 It seems like every year the sleaziness of car dealerships gets taken to a whole new level. Take the report from the Miami Herald of a dealership employee who made nearly $200,000 from people who bought cars from him and never received them, for example.
The scam started with Carlos Ravelo, a finance manager at a Honda dealership. Ravelo would advertise cars at prices that were too good to be true, like a 2019 Honda Civic for $8,900, or a 2019 Honda CR-V for $12,000. When buyers contacted him about these cars, he'd make a deal. But when it came time to pay for the vehicle, buyers couldn't finance. Ravelo would say that they could only pay him in cash.

That's what happened to one customer who says Ravelo scammed them in December 2022. They made a deal with him to buy the aforementioned '19 CR-V for $12,000. The woman says her husband went to the bank to get a check and gave it to Ravelo while he told them they'd have to come back the next day to get the car.
"He let us ride in the car, he gave me the VIN, the receipt, making it seem like everything was legit," she said. When they went back the next day, he was gone.

Another buyer trusted Ravelo enough to purchase a car from him because of familiarity: he and her mother-in-law knew each other and had gone to school together. A police report details how Ravelo further earned her trust, telling her things like he was able to "get her a good deal." The same lie persisted: Ravelo told her she could only pay in cash. So she did, giving him $32,000 in two installments. The same day she made the final payment, he made up an excuse as to why she couldn't get her car yet. Not long after, he stopped responding to her calls and texts demanding her money back.

Authorities say Ravelo did this to a total of 11 people, earning $179,000 from the illicit "sales." Ravelo was arrested and his charges are numerous. From The Herald: "...eight counts of third degree grand theft; two counts of second degree grand theft from $20,000 to $100,000; four counts of worthless check given; one count of theft from an elderly person from $10,000 to $50,000; and one count of organized scheme to defraud charge."

He's being held on a $45,000 bond. Worse yet, many of the victims say they trusted him because they knew him personally, as he was a family friend. And while these people would likely want to see their money back, they probably won't. During his arraignment hearing, the judge mentioned how Ravelo admitted he has a gambling addiction and lost all the money. This is a good reminder to demand documentation for everything, and to never hand over cash to someone who isn't immediately giving you the keys to your vehicle.