Is Nissan intimidating the employees of its Canton, Miss. plant out of voting to unionize their workforce?
Danny Glover, the star of classic films like Lethal Weapon and Lethal Weapon 4, says that they are. So do several Nissan workers, a Mississippi state senator, the president of the state's NAACP chapter and others who held a small press conference across the street from the glitz and glamour of the Detroit Auto Show's opening day.
They call themselves the Mississippi Alliance for Fairness at Nissan, and they're pushing to allow workers at the plant to vote on whether or not to join a union — and they say Nissan has used scare tactics to keep them from doing it.
Nissan says they're doing no such thing. I'll come back to that in a minute.
Danny Glover supports the alliance's goals too, and was there to add the kind of celebrity panache that gets these kinds of stories into newspapers and blogs like this one. Glover, a longtime political activist who has taken on labor issues in other places, spoke about how a vote to unionize will help the workers take control of their destinies. (He also talked about Enlightenment ideals and Jim Crow laws in the south. He's an interesting guy.)
G/O Media may get a commission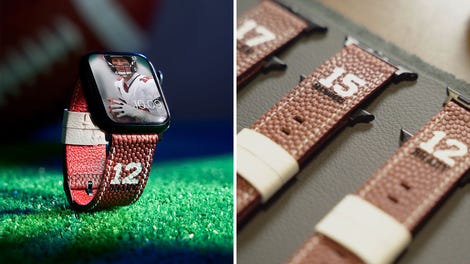 Official NFL PRODUCTS
Official NFL Apple Watch Bands
"What they do, the work they will do, will excite and also push forward, the movement for all workers," Glover said. "Their relationship to all workers is fundamental. That relationship is about the right to organize, the right to have a fair wage and benefits, and the right to be able to stand up — as those workers in Mississippi did almost 45 years ago — and say that 'I am a man.'"
Powerful, um, stuff.
About 5,000 people work at the Canton plant, where they produce Nissan Altimas as well as SUVs and trucks like the Xterra and Frontier. It's one of the largest employers in the region. The employees who spoke out say they have reasons for wanting to unionize there, including issues with the way injured workers are treated.
Michael Carter, a body shop employee at the plant for more than 10 years, said that workers are afraid to report their injuries because they must first see a Nissan doctor who often recommends they return to work before they have healed completely.
Carter and another plant worker said employees have been pushing for an employee vote on whether or not to unionize, and Nissan has responded by threats, veiled and implicit, that they will lose their jobs or that the plant could close.
Morris Mock, an employee at the plant for more than 10 years, said Nissan has had roundtable meetings with small groups of workers and have shown them movies of factories in Detroit closing down.
"They tell us that if we get a union, this may happen to you," he said. There was also a campaign launched by Nissan with t-shirts that said "If you want a union, move to Detroit." And Mock said that he was personally told by one manager that he would be fired if he supported a union.
Their group has launched a new website asking car buyers to look "beneath the shine" at how Nissan treats its laborers. Nissan allowed unionization at plants in Japan, South Africa and Israel, so why not in Mississippi?
Oh yeah, and the United Auto Workers union is backing them up. That's important to note. It's no secret that the UAW has been trying to unionize the employees at the foreign-owned auto factories in the U.S., something they haven't had much success with. Even a vote to unionize at the Canton plant would be a huge deal for them. But Mock insisted that the employees reached out to the UAW, not the other way around.
Nissan counters this by saying that the UAW has targeted the Canton plant for a long time. They've tried to get other Nissan plants to unionize, but every time they have, "Each time that a union election has been held at one of our plants, however, employees have voted overwhelmingly against it," Nissan communications VP Dave Reuter told me in an email.
Reuter vehemently denies that any intimidation of workers is taking place, or that they're preventing workers from having a union vote. "No intimidation of any kind will be tolerated from anyone in our company," he said.
In addition, "Regarding the t-shirts, employees who are opposed to the union's extended campaign developed and distributed t-shirts as you describe. Nissan had no involvement," he said.
And Nissan officials say that the vast majority of their workers don't want to unionize. There were organizing efforts at Canton in 2005 and 2007, and both failed to gain adequate support to even hold an election. At Nissan's Smyrna plant, 68 percent of employees voted not to unionize, Reuter said.
But Mock and the other employees say the only way to find out if Canton workers want to unionize is to let them vote.
"We don't know unless we have a fair election," Mock said. "If they believe that, why are they so afraid to let us?"