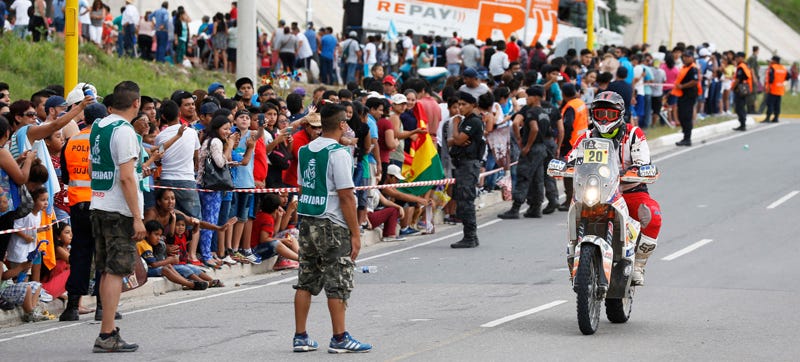 Slovakian rider Ivan Jakes was struck by lightning in the Salar Centenario area on the third stage of the Dakar Rally, reports Motorsport.com. Of course it didn't stop him. Who stops for a pesky little nuisance like lightning on the Dakar?
Jakes, who rides a KTM for his own team in the rally, was 186 miles from the finish line when lightning struck him during a storm. He felt the hit, but kept riding despite pain in his left arm, ultimately finishing 15th on the stage.

Doctors credited the bike for saving Jakes' life to Motorsport.com. Much like what happens when lightning strikes a car, the KTM conducted electricity through the ground. Had Jakes stepped off the bike and grounded that electricity through him instead, he would have been injured much worse.

Jakes was later checked and cleared to return to competition in a Jujuy hospital. According to an update from the Dakar Rally, Jakes started off on Stage 4 this morning. Clearly, it's going to take a lot more than angry sky-blasts to stop this man from finishing Dakar.